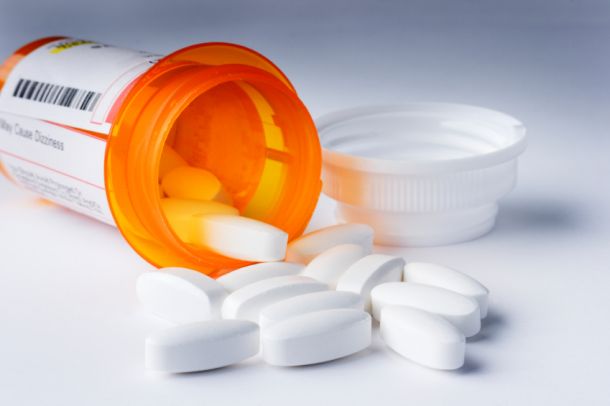 David Emerson was playing what seemed like just another slowpitch softball game, but his life would soon change forever with one step.
"I hit one in the gap and I was going for a double, but when I rounded first base, I felt that pull in my quad," he recalled in a recent phone interview. He had torn a muscle in his quad, and was prescribed Vicotin by his doctor.
"At first I was taking it as prescribed, and it relieved my pain." Over time, the former baseball player slowly became chemically dependent on the drug. "I found myself thinking 'hey maybe if I take a couple pills – a few more than prescribed – it makes me feel pretty good'. Before I knew it I needed the pills to feel normal," he said.
Eventually, Emerson's doctor stopped prescribing Victotin, and he was forced to turn to a street dealer to purchase the drug, a much more costly route to obtain the drug. "I told my parents I needed to borrow money and I used that money on the drugs. That's when I knew I had a serious problem."
He knew his addiction was spiraling out of control and he needed help after being offered heroin by his street dealer. He checked himself into a rehab center in August 2013, and he hasn't abused painkillers since.
David's cousin, Don Emerson, had a very similar situation in the late 1980's, but his case was much worse, ending in an overdose death. "He sustained a back injury in his senior year playing baseball. He was involved in a collision at home plate and messed up his back," Wes Emerson, father of David and uncle of Don, told me in a recent interview.
Don was prescribed OxyCotin, but continued to battle back injuries the rest of his life. When he was 32-years old, he had a traumatic experience with a surgery, and became addicted to the drug he was first prescribed after his injury as a result. After a two-year battle with addiction to the drug, he overdosed in 2004 at the young age of 34.
Willie Kalousdian, a former three-sport student athlete from Fraser High School in Fraser, Michigan, can relate to these painful, excruciating stories. "My first injury was a torn meniscus on the basketball court, and I was prescribed Vicodin," Kalousdian, who had to have four major surgeries while in high school alone, says. "From there, I always had prescriptions around."
Over time, he became chemically dependent on opiates, and became addicted over a 4-5 year span. Sports stopped becoming a priority in his live, as prescription drugs soon took over. "I didn't really care anymore about sports. I found something that made me feel good and it became the first thing on my mind," he told me in a recent phone interview. "I stopped trying at practice all the time. I stopped really caring about excelling. I was happy just being good enough."
His prescription drug abuse stopped him from playing college football, a dream many athletes spend their whole life aiming to accomplish. The 6'3″ wide receiver turned down an offer to play football at Ferris State University as a walk on. "Since I was using drugs and alcohol I had different plans in my mind, so I kind of just turned that down."
Kalousdian has been in recovery since 2012 after checking into rehab and currently serves as Director of Youth in Recovery for Families Against Narcotics.
Cases like these do not only occur in high school sports, but in the professional world as well.
Derek Boogaard was a forward in the NHL from 2005-2001, and was frequently prescribed a wide variety of painkillers over his time with the Minnesota Wild and New York Rangers. Records obtained show he was prescribed around 190-220 pills a month, well over 1000 per season during his six-year career.
The 6'8″, 270 pound enforcer became addicted to these painkillers very quickly, resulting in an overdose death from a deadly combination of alcohol and oxycodone.
The National Football League (NFL) has also gotten thousands of players addicted to painkillers with no consequences.
These are just four of the millions of stories.
Sports injury and drug addiction may seem unrelated, but it's a growing trend in the sports world, experts say.
More than 2.1 million people in the United States are affected by painkiller addiction as of 2012, according to DrugAbuse.gov. Like David, Don, Willie, and Derek a large number of opiate addictions are a result of a sports injury, although the exact statistics are unknown.
The medicine doctors are prescribing athletes, including OxyCotin, Vicotin, and Percocet, are highly addictive to the young brain and can lead to the use of heroin, morphine, and other dangerous drugs, says Judge Linda Davis. These drugs are known as opiates.
"The young brain is not able to process opiates the way the adult brain does," says Judge Davis, who became an expert on opiates and founded Families Against Narcotics (FAN) in 2007 after her daughter became addicted to heroin and 30 people in her community died due to heroin overdose in a 12-month span.
"Often times the first time a young person takes Vicotin [or other prescription drugs] they get a euphoria feeling they like and so they continue to use it. They don't understand that the euphoria is the type of stuff that makes them become addicted," Judge Davis, a 41B District Court Judge in Clinton Township, Michigan, told me in a recent phone interview. "Most people are not aware of the fact that opiates are the same synthetic makeup as heroin. They are synthetic heroin. They have the same addictive qualities and makeup of heroin."
But what alternatives are there instead of taking narcotic pain medication? Judge Davis was quick to jump on the question, providing many alternatives.
"If they [the athletes] are taking opiates, they need to be given by a parent and not used for more than the maximum 72 hours. Beyond that, if there is still excruciating pain, they need to go see a pain management doctor that will do things like nerve block, so that this young person doesn't become dependent on the opiates."
"We've become a society that doesn't want to feel anything. With opiates, they do not kill pain, they mask it."
FAN is currently working with schools to start a mandatory program for athletes and their parents informing them about how addictive these drugs can be and how unsafe it is for these athletes to take opiates. They encourage parents to tell their doctors they would rather have their child be on a non-narcotic pain medication. You can read more about FAN here.
"I'm not going to say opiates are never needed, but in young people they should not be the first resort, but the last resort," Judge Davis said with a fueling passion.