The Alpine Skiing World Cup continued today with downhill races of both men and women. Men were racing in Beaver Creek while women were in Lake Louise.
Men's Downhill in Beaver Creek
Italy's Christof Innerhofer started the race and set a time that remained on top of the timesheet for a long time. Innerhofer's countryman Peter Fill, runner-up of the season's first downhill in Lake Louise, started 12th and came close to Innerhofer, losing by only 0.04 seconds.
It was only Switzerland's Carlo Janka with the bib No. 15 who beat Innerhofer's lead time, by 0.13 seconds. Following Janka on the slope was the winner of the both season's first speed races in Lake Louise, Aksel Lund Svindal of Norway. Svindal set by far the quickest time on the Birds of Prey slope, beating Janka by 0.97 seconds.
Starting after Svindal was Hannes Reichelt of Austria. Last season's downhill World Cup runner-up Reichelt was only 18th in the Lake Louise downhill but this time he did better; he went to second place, 0.78 seconds from Svindal.
Last year's Beaver Creek downhill winner and defending downhill World Cup champion Kjetil Jansrud was the next man on the slope. He was only ninth in the Lake Louise downhill but set the quickest time in the two downhill training runs in Beaver Creek. Yet neither he could beat Svindal's lead time but went to second place, 0.30 seconds behind his countryman.
The podium wasn't settled yet. France's Guillermo Fayed with the bib No. 20 set a time 0.70 seconds slower than Svindal. That was enough to beat Reichelt by 0.08 seconds for the final podium spot.
The podium remained unchanged after that. One remarkable performance from later starters was the USA's Andrew Weibrecht with the bib No. 34, going to a tied fifth place with Carlo Janka, 0.97 seconds from Svindal.
Svindal leads the downhill World Cup after two races with the maximum points of 200. Peter Fill remained in second place, 88 points behind Svindal. Guillermo Fayed is third, just two points behind Fill. The defending champion Jansrud is fourth, just a point behind Fayed and 91 points from leader Svindal.
Women's downhill in Lake Louise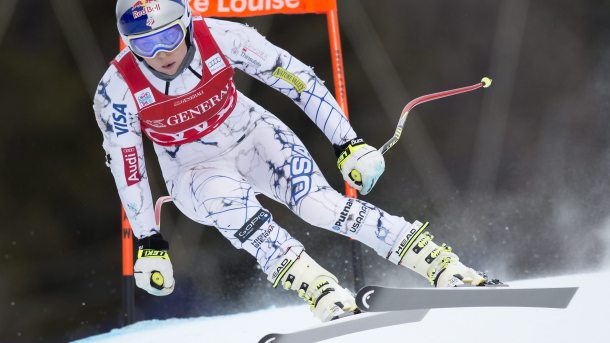 Photo: AP
France's Margot Bailet with the bib No. 2 set a time that lasted well against the higher-ranked skiers. Austria's Cornelia Hütter with the bib No. 10 was the first to go under Bailet's time, by 0.58 seconds.
Hütter's time proved to be hard to beat. Only one lady could deny Hütter's maiden World Cup race win; it was the USA's Lindsey Vonn with the bib No. 21. Vonn had a great start to her run and by halfway she was already leading by 0.40 seconds. However, she had a big mistake after that but could correct it, yet the lead had reduced to 0.09 seconds at the next split. But Vonn had a perfect finish to her run and she beat Hütter by 0.58 seconds.
Vonn was also the first skier after Hütter go to under Bailet's time. Soon after Vonn, another skier went below Bailet's time and denied her podium spot. Austria's Ramona Siebenhofer with the bib No. 23 set the third-quickest time, 1.07 seconds from Vonn, and beat Bailet by 0.09 seconds.
Lara Gut of Switzerland was one of the favorites for speed disciplines as the giant slalom races had already proved she is in a good form. She finished the race in a tied sixth place, 1.40 seconds from Vonn. However, it will be on Sunday when she gets to race in her better speed discipline, super-G, that she won in last two years in Lake Louise.
Liechtenstein's Tina Weirather is another speed specialist who was considered as one of the favorites, considering her good start to the season in giant slalom. She was even more of a favorite in downhill than Gut; given that her 18th place was one of the biggest disappointments of the first downhill of the season.
---
The Alpine Skiing World Cup continues on Saturday with a men's super-G in Beaver Creek and a women's downhill in Lake Louise.