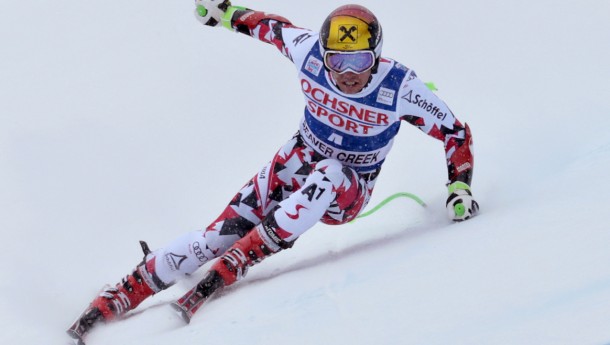 The Alpine Skiing World Cup continued today with a men's super-G in Beaver Creek and another women's downhill in Lake Louise.
Men's Super-G in Beaver Creek
The super-G race on the Birds of Prey slope had to be run on a shortened course due to snowfall, fog, and heavy wind.
The overall World Cup champion of last four seasons, Marcel Hirscher of Austria, started the race with the bib No. 4. He took the lead by 0.50 seconds to Italy's Mattia Casse who had started the race with the bib No. 1.
It was only Andrew Weibrecht with the bib No. 10 who was the next to go under race-starter Casse's time. However, Hirscher's lead remained untouched as Weibrecht, fifth of Friday's downhill, went to second place, 0.36 seconds from Hirscher.
Even the best super-G skiers struggled to have a good run in the increasing snowfall. The defending super-G World Cup champion, Kjetil Jansrud of Norway, had a strong start to his run and was trailing Hirscher by only 0.08 seconds at the second split. Soon after that, he had a big mistake, costing lots of speed. Jansrud finished his run 3.30 seconds from Hirscher, eventually missing the top 30 and World Cup points.
The super-G winner of last December's World Cup race and February's World Championships on the Birds of Prey slope, Hannes Reichelt of Austria, was neither able to challenge Hirscher's lead time. He lost 0.89 seconds, eventually finishing 16th. Starting after Reichelt, Adrien Theaux with the bib No. 19 was the first man after Weibrecht to make the top three, going to a tied third place with Casse, 0.50 seconds from Hirscher.
The winner of all this season's previous speed races, Aksel Lund Svindal, started his run well and was only 0.03 seconds from Hirscher at the second split. But like his countryman Jansrud, he made a mistake at the same place, though costing him less time. Svindal finished his run 1.17 seconds from Hirscher. That was enough for only a 21st place in the final results.
One man remained who would make the podium. The 2013 super-G World Championship gold medalist Ted Ligety finished his run in second place, 0.33 seconds from Hirscher, to score his only second super-G podium on the World Cup tour.
The win was Hirscher's first in super-G on the World Cup tour, in a discipline where he had previously only one podium finish. Also, the third place was the first World Cup podium for the Olympic silver and bronze medalist Weibrecht. Third place completed a good weekend for him, after finishing fifth in Friday's downhill.
Svindal remains on top of the super-G World Cup standings with 110 points. Hirscher is second with the 100 points for today's win. It will be interesting to see if today's result encourages Hirscher to do the full schedule in super-G. In third place, 20 points from Svindal, is today's sixth, Travis Ganong.
Women's Downhill in Lake Louise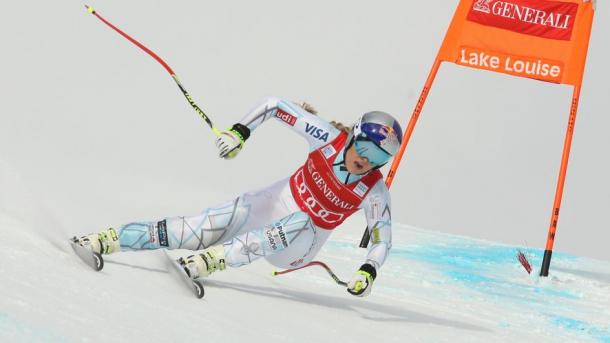 The runner-up of Friday's downhill in Lake Louise, Cornelia Hütter of Austria, had a great run also in Saturday's downhill. Starting with the bib No. 13, she beat the previous lead time of Switzerland's Corinne Suter by 0.42 seconds.
Following Hütter, Kajsa Kling of Sweden went to second place, 0.31 seconds from Hütter. Immediately after her, Italy's Nadia Fanchini beat her by 0.07 seconds for the second place.
After Fanchini, it was Friday's winner Lindsey Vonn at the start gate. Like on Friday, Vonn destroyed Hütter's hopes of a maiden World Cup win. This time Vonn had a clean run and took the lead by massive 1.16 seconds.
Following Vonn were two of her strongest rivals in the World Cup, Tina Weirather of Liechtenstein and Lara Gut of Switzerland. Weirather's difficult weekend continued; after finishing 18th on Friday, she finished 13th on Saturday, 2.07 seconds from Vonn. Gut finished in eighth place, 1.85 seconds behind Vonn; however a mistake on the bottom section may have cost her some positions.
One skier would still change the order on top of the race; Switzerland's Fabienne Suter finished her run in second place, 1.05 seconds from Vonn.
Lindsey Vonn leads the downhill World Cup with the 200 points from her two wins. Cornelia Hütter is second, 60 points behind, and Fabienne Suter is third, 80 points behind.
---
The Alpine Skiing World Cup continues on Sunday with a men's giant slalom in Beaver Creek and a women's super-G in Lake Louise.