The Alpine Skiing World Cup continued today with giant slalom races. Men are racing this weekend in Val d'Isère, France, and women are racing in Åre, Sweden.
Men's Giant Slalom in Val d'Isère
The first run was very competitive. Marcel Hirscher of Austria set the quickest time, followed by Norway's Henrik Kristoffersen 0.14 seconds behind. Victor Muffat-Jeandet of France was third, 0.18 seconds from lead, and even the fourth-placed Frenchman Thomas Fanara was only 0.25 seconds from lead.
USA's Ted Ligety was surprisingly weak in his run. The five-time giant slalom World Cup champion lost 2.83 seconds to Hirscher, finishing only 42nd and not qualifying for the second run.
First run's sixth, Felix Neureuther of Germany, had a second run that would take him to podium. Starting after him, Marcus Sandell of Finland had a mistake in his run that cost him the chance to beat Neureuther's time. First run's fourth, Thomas Fanara, crashed early in his run after straddling a gate and went through the safety net; thankfully he didn't seem to have hurt himself in the crash.
First run's third, Victor Muffat-Jeandet, had a lead of 0.32 seconds to Neureuther, yet ended up losing to Neureuther by 0.29 seconds and went to second place. Starting after Muffat-Jeandet, Henrik Kristoffersen crashed at the same gate as Fanara. That secured a second consecutive podium finish for Muffat-Jeandet.
Still, one man would prevent Neureuther's win. Leader after the first run, Marcel Hirscher set the quickest time also on the second run and extended the gap to Neureuther from 0.50 to 1.29 seconds.This was Hirscher's third consecutive win on the World Cup tour and he claimed the overall lead by 43 points from Aksel Lund Svindal who didn't race in Val d'Isère.
Some notable performances on the second run were Austria's Manuel Feller setting the third-quickest second run, climbing from 13th to fourth place, and Slovenia's Zan Kranjec setting the second-quickest second run, climbing from 30th to 12th place.
Marcel Hirscher leads the giant slalom World Cup by 94 points to second-placed Victor Muffat-Jeandet and 95 points to third-placed Felix Neureuther.
Women's Giant Slalom in Åre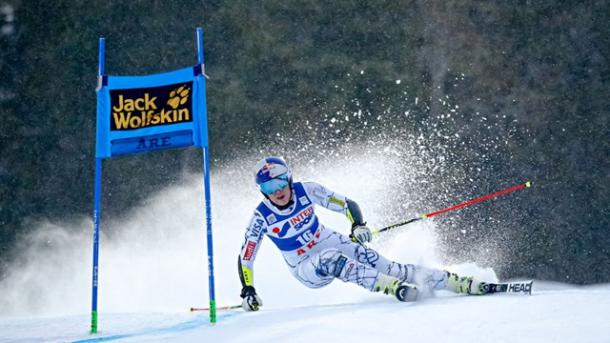 One of the favorites was out already before the race started. Mikaela Shiffrin of the USA crashed during warm-up and her right knee had to be evaluated at hospital.
The start of the first run got delayed and had to be moved down due to strong wind. The first racer on the slope, Sara Hector of Sweden, had to stop her run after injuring her left knee. The race got later suspended when she was transported from the slope.
USA's Lindsey Vonn set the quickest time of the first run, beating Sweden's Frida Hansdotter, better known as a slalom specialist, by 0.33 seconds. Austrian GS specialist, Eva-Maria Brem was third on the first run, 0.35 seconds from Vonn.
The giant slalom World Cup leader Federica Brignone was sixth after the first run. She set the quickest second run and the following starters, Tessa Worley and Nina Løseth, could not stay ahead of Brignone.
First run's third, Eva-Maria Brem lost only 0.06 seconds of her lead to Brignone and stayed ahead by 0.28 seconds. First run's second, Frida Hansdotter could not keep her position but went to fifth place, with only the first round's leader Lindsey Vonn to start.
Vonn increased her lead to over half a second in the early section. Though, in the middle section she lost almost all of her lead. With a marginally better final section, she beat Brem by 0.07 seconds to win her fourth consecutive World Cup race.
It was a difficult race for Switzerland's Lara Gut who came to Åre in the second place of the giant slalom standings, only 10 points behind the leader Brignone. Gut finished in Åre only in 14th place, and the gap to Brignone increased to 50 points. Eva-Maria Brem overtook Gut for the second place in the GS standings; she is now 28 points behind Brignone.
---
The Alpine Skiing World Cup continues in Val d'Isère and Åre on Sunday with men's and women's slalom races.