The Alpine Skiing World Cup events in Val d'Isère and Åre continued with men's and women's slalom races.
Men's Slalom in Val d'Isère
Norway's Henrik Kristoffersen set the quickest time of the first run. Closest to him came his countryman Sebastian Foss Solevåg, losing by 0.31 seconds. Alexis Pinturault of France was third, 0.79 seconds from Kristoffersen. That was a strong comeback run after the previous weekend's giant slalom crash that kept him away from Saturday's giant slalom.
Last season's slalom World Cup runner-up Felix Neureuther was fifth on the first run, 1.02 seconds behind Kristoffersen. The defending slalom World Cup champion Marcel Hirscher was eighth, 1.66 seconds from Kristoffersen.
After the first run's mediocre performance, Hirscher set the quickest time of the second run. Not even last season's runner-up Neureuther could beat Hirscher's lead time but the 0.64-second advantage turned into a second place and a loss of 0.37 seconds.
First run's third, Alexis Pinturault started his second run even quicker than Hirscher. However, he crashed soon after the first split so Hirscher remained in the lead with only two men to go.
Sebastian Foss Solevåg's second run ended very quickly after straddling a gate. Yet, Henrik Kristoffersen remained in the way of Hirscher's fourth consecutive race win.
Kristoffersen set the second-quickest second run, enough to beat second-placed Hirscher by 1.09 seconds. Neureuther finished in third place, ahead of the USA's David Chodounsky who set the fifth-quickest second run and climbed from 11th to fourth place.
Marcel Hirscher extended the overall World Cup lead over Aksel Lund Svindal to 123 points. Neureuther is in third place, 215 points behind Hirscher, and 23 points ahead fourth-placed Kristoffersen.
Women's Slalom in Åre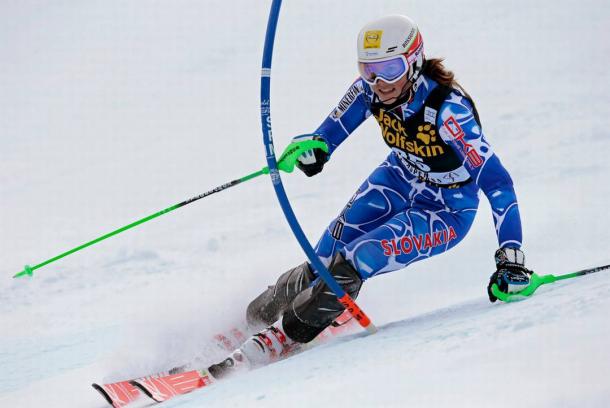 Photo: Keystone
Norway's Nina Løseth seemed to have set the quickest time of the first run. However, starting with the bib number 19, the 2014 junior World Champion Petra Vlhová beat Løseth's time by 0.28 seconds. The first run's top three was completed by Austria's Michaela Kirchgasser, 0.57 seconds from Vlhová.
Switzerland's Lara Gut, third in the overall World Cup, made a rare appearance in a slalom race in Åre, aiming to score some points. She finished the first run in 35th position, missing the second run and points by 0.33 seconds.
First run's fifth, Frida Hansdotter of Sweden, set the quickest time of the second run. As the following skiers, Šárka Strachová and Michaela Kirchgasser, couldn't stay ahead of her, Hansdotter secured a podium finish in her home country on her birthday.
First run's second, Nina Løseth had a lead of 0.34 seconds to Hansdotter, yet neither she could stay ahead of Hansdotter but lost by 0.06 seconds.
The leader of the first run, Petra Vlhová started with a lead of 0.62 seconds to Hansdotter. Her lead had already reduced to just over 0.2 seconds before the final section of the second run, yet with a strong finish the 20-year-old Slovakian scored her first World Cup race win by 0.59 seconds.
Frida Hansdotter overtook the injured Mikaela Shiffrin for the slalom World Cup lead by 20 points. The race winner Vlhová is third, 60 points from Hansdotter.
Lindsey Vonn remains in the overall World Cup lead after the Åre weekend. Hansdotter is second (85 points behind), Shiffrin is third (104 points behind), and Lara Gut is fourth (122 points behind).
Shiffrin and Hector Injury Update
USA's Mikaela Shiffrin suffered a right knee injury during warm-up for Saturday's giant slalom. The early diagnosis is an MCL injury and a bone bruise, though she will fly home to the USA for a compete evaluation. She will miss next weekend's races and probably also those in the week after Christmas.
Sweden's Sara Hector injured her left knee during the first run of the giant slalom. She suffered no ligament damage, yet she needs a reconstructive surgery on the cartilage behind her patella. The recovery will keep her out of competition for the rest of the season.
---
The Alpine Skiing World Cup continues on December 18-19 with men's super-G and downhill in Val Gardena/Gröden, and women's alpine combined and downhill in Val d'Isère.