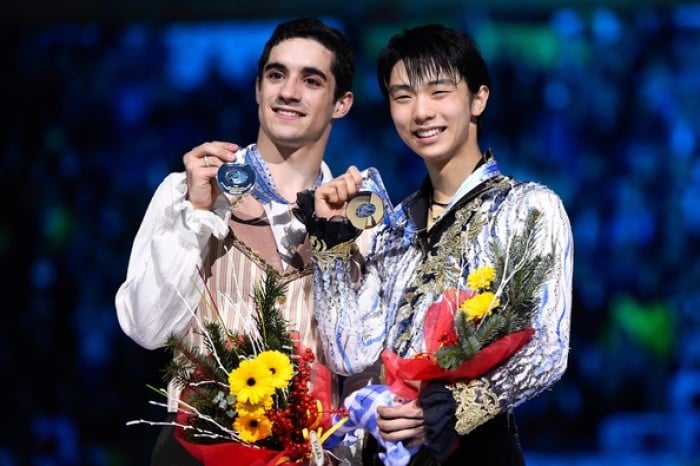 Last season, Yuzuru Hanyu had one of the best figure skating seasons of all time. He broke the short program and free skate points record in front of his home crowd, and did it again a few weeks later when he won the Grand Prix Finals. Hanyu, who was coming off a gold medal at the Sochi Olympics, showed off some of the best skating of his career, and he wow'd fans everywhere he went.
Problem is, Hanyu doesn't get to call himself the reigning World Champion. That distinction belongs to three time European Champion Javier Fernandez. Fernandez shocked Hanyu in Shanghai back in March.
Hanyu has been working towards avenging that defeat ever since, and it lead to the Grand Prix Finals, when Hanyu dominated the field. Fernandez, however, did not fold in the shadow of Hanyu's brilliance. He won both events on his Grand Prix Season schedule, and skated a personal best performance on his way to a silver medal in the Grand Prix Finals.
When performing at their best, the two are miles ahead from the rest of the world. In fact, when Hanyu is skating without many mistakes, no one can catch him, a fact Fernandez realizes.
"After the short program, I know Yuzuru was way far away already," said Fernandez during the Grand Prix Finals. "If he does a great program, there's nothing I can do about it."
Fernandez knows, however, that Hanyu's difficult routine can also lead to mistakes, as it did in the free skate of last year's World Championship. Hanyu, on the other hand, knows that he is on top of the world, and that a competitor like Fernandez will work hard to knock him off, so Hanyu has to continue to improve if he wishes to continue his reign. Hanyu has already said he will be adding more quads to his routine in an attempt to improve.
"I should add more types of quads and I have until March to work on it," Hanyu said during a news conference in Sapporo after winning the National Championship in Japan at the end of December. "Obviously I want to win (at the world championships) but before that I want to perform well like I did at the NHK Trophy and Grand Prix Final."
Hanyu and Fernandez are forcing each other to be better, but while they are on top of the skating world right now, they also understand that figure skating is fluid, and new stars come in every year to try and to take the crown. 18 year old Shoma Uno finished third at the Grand Prix Finals in his first year as a senior. He just finished second to Hanyu at the National Championship. 18 year old Jin Boyang from China also qualified for the Grand Prix Finals. If Fernandez and Hanyu take their position for granted, one of these young skaters may defeat them.
The 2016 World Championships begin on March 28th in Boston. It will be interesting to see the new routines Fernandez and Hanyu show off in their events prior to the event, but one thing is for certain - if last year is any indication, these two will be battling it out once again this year.