 Stockholm hosted its first Alpine Skiing race with today City Event. This is the 5th event of this kind in the FIS Alpine history, a sprint race with close gates and exciting head to head format. A huge crowd has moved by mass to support the racers for the first time in town and more particularly the Swedes.
The last three city events being cancelled, alpine skiers didn't get to race this course format since January 2013. That was in Moscow, where Lena Duerr and Marcel Hirscher triumphed. This spectacular contest counts for the World Cup, more precisely for the Slalom standings.
Marcel Hirscher shew all his technical qualities to win the City Event of Stockholm. He defeated Julien Lizeroux in the quarter finals with authority, won over Stefan Gross to reach the final and finally conquered the Victory 0.26 seconds ahead the home favorite Andre Myhrer.
A few surprises
Henrik Kristoffersen didn't make it to the quarter-finals. The young Norwegian faced his fellow countrymen Kjetil Jansrud. The specialist of the fastest discipline carved beautiful and straight curves to make it a hat trick. He finally lost to Andre Myhrer, who ended second defeated by Hirscher.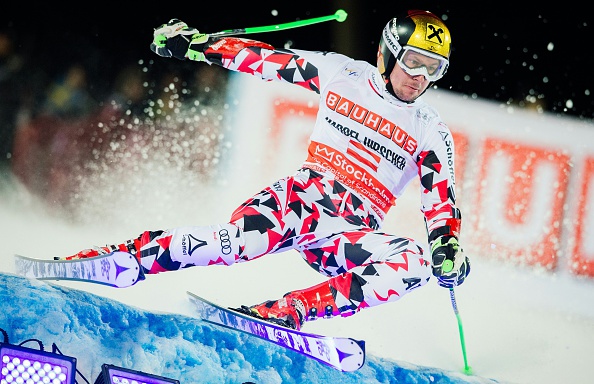 Alexis Pinturault didn't reach the quarters either, the Frenchman lost to a determined Alexander Khoroshilov. The Russian stayed smooth and error free until the semi-finals, where Myhrer reversed the trend to impose hisself. Khoroshilov finally couldn't claim the podium, losing to Stefano gross in the small final.
Points marked for the overall
While Marcel Hirscher leaves Stockholm with a victory and 100 points, Henrik Kristoffersen sees the overall title recede. Indeed, he was defeated by his teammate Kjetil Jansrud in the knockout round and then scored 15 points. However nothing is lost for the young Norwegian.
Final Results:
Marcel Hirscher wins the City Event of Stockholm ahead of Andre Myhrer and Stefano Gross.
2015/16 overall standings
1. Marcel Hirscher - 1145 pts
2. Henrik Kristoffersen - 957 pts
3. Aksel Lund Svindal - 916 pts
---
The Men's Alpine Skiing World Cup continues this weekend in Hinterstoder (AUT).