 The Alpine Skiing World Cup has three weeks remaining. Men's penultimate technical races take place this weekend in Kranjska Gora, Slovenia with two giant slalom and one slalom races.
Can Pinturault Catch Hirscher for the GS title?
The overall World Cup leader Marcel Hirscher comes to Kranjska Gora in the lead of the giant slalom standings. He is followed in the GS standings by Alexis Pinturault, the winner of the previous three GS races, 131 points behind.
Four more skiers, Henrik Kristoffersen, Victor Muffat-Jeandet, Felix Neureuther, and Mathieu Faivre, are also within 300 points from Hirscher and have a mathematical chance for the GS title; however, they would need to reduce the gap to Hirscher to under 200 points already in the first GS race on Friday.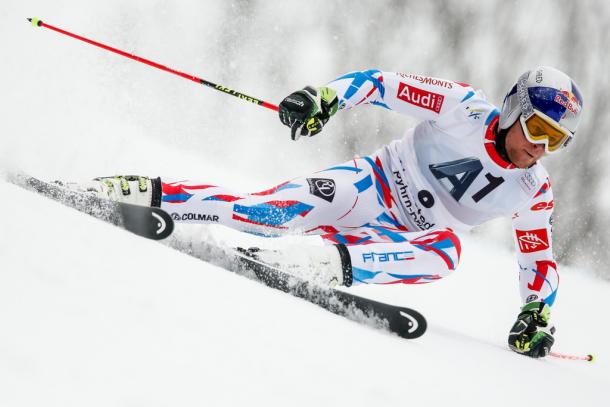 Alexis Pinturault has dominated the last three GS races whereas the defending champion Marcel Hirscher achieved a sixth place and two second places in those races. Still, Pinturault's task to catch Hirscher from 131 points behind in the last three races seems very difficult; in the previous three races where Pinturault excelled and Hirscher wasn't at his best, Pinturault caught Hirscher by 100 points.
Hirscher not finishing a race seems like Pinturault's only chance to fight for the GS title; Naeba's sixth place was Hirscher's worst GS performance in over three years. And given Hirscher's remarkable consistency, it seems like Pinturault is the one more likely to have a bad race, despite his tremendous form during the past month. In the two Kranjska Gora races, Pinturault and other title contenders should reduce the gap to Hirscher to under 100 points if they want to go into the final race in St. Moritz with a title chance.
What may help Pinturault is that Hirscher is protecting his 283-point lead to Henrik Kristoffersen in the overall World Cup while Pinturault is basically out of the overall title contention. Not finishing a race would let Kristoffersen into the overall title fight, so Hirscher may not be taking risks in the final races. On the other hand, Hirscher's overall title rival Kristoffersen needs to take risks. While he's been the superior slalom skier this season, he needs to beat Hirscher also in the remaining GS races. Kristoffersen also has a mathematical title chance in giant slalom; however, that chance would require Hirscher ending his season with his worst three GS races in years.
---
The first giant slalom takes place on Friday. First run starts at 10:00 am local time (4:00 am Eastern time), second run starts at 1:00 pm local time (7:00 am Eastern time).
The second giant slalom takes place on Saturday. First run starts at 9:30 am local time (3:30 am Eastern time), second run starts at 12:30 pm local time (6:30 am Eastern time).
Kristoffersen Aiming to Secure Slalom Title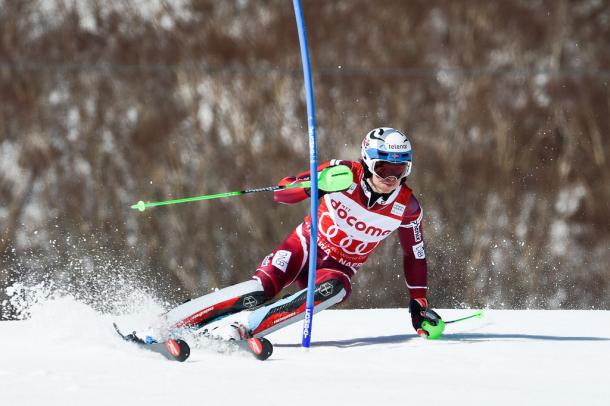 The slalom World Cup leader Henrik Kristoffersen had a chance to secure the discipline title already in the Stockholm city event, however he lost on the first round of the knockout race and his only remaining title rival Marcel Hirscher won the race, reducing the gap to 131 points. Kranjska Gora offers Kristoffersen another chance to secure the title before the final race of St. Moritz if he can keep the lead at over 100 points.
Kristoffersen has been the dominant slalom skier of the season, winning all but two of the regular slalom races and missing the podium only once. The three-time defending champion Hirscher has been more inconsistent; he has one win but also missed the podium twice when he didn't finish the race.
The slalom and overall World Cup standings don't really encourage either title contender to take risks in the slalom race. Kristoffersen's slim overall title chance almost requires him to beat Hirscher in all remaining races; however, he surely doesn't want to take excessive risks when he can win his career-first World Cup title in slalom.
As Hirscher is protecting his overall World Cup lead, he may not be attacking in the slalom in a way his slim slalom title chance would require; the overall title is surely his priority. However, if he could extend the overall points lead from 283 to 301 points after the two giant slalom races, he would basically have secured the overall title before the last three technical races as Kristoffersen is a slalom and giant slalom specialist. In that case, he could start the slalom race without pressure, free to take risks and put pressure on Kristoffersen.
If Hirscher couldn't extend the overall World Cup lead to over 300 points in the two GS races, he basically needs a 201-point gap to Kristoffersen after the slalom to secure the title. And even if he couldn't do that in Kranjska Gora, there will be two super-G races on the following weeks where he can secure the title before Kristoffersen's last opportunity in the final giant slalom and slalom races.
---
The slalom takes place on Sunday. First run starts at 9:30 am local time (3:30 am Eastern time), second run starts at 12:30 pm local time (6:30 am Eastern time).