 The Men's Alpine World Cup moved from Austria to Slovenia and the weekend in Kranjska Gora will offer two giant slaloms and one slalom. The morning of first Kranjska Gora's giant slalom, that was scheduled to be replace Garmisch-Partenkirchen's cancelled giant slalom about a month ago, started with some problems for the organizers. Because of fresh snow, they had to move to start a bit lower down the course and subsequently having the run only around 55 seconds long.
Pinturault continues domination in first run
The winner of last three World Cup giant slaloms Alexis Pinturault of France proved his fantastic form again leading 0.34 seconds in front of Philipp Schoerghofer of Austria and 0.51 seconds in front of Felix Neureuther. The World Cup giant slalom standings leader Marcel Hirscher was seventh, 0.82 seconds behind Pinturault.
The shortened giant slalom because of bad weather made sure that the skiers had to be just 2.01 seconds behind the leader to qualify for the second run. Despite that only nine skiers managed to get within a second of the leader. That only meant that the chances of big leaps and huge falls down the leaderboard were entirely possible in the second run. A feel good story of the first run belongs to Eemeli Pirinen, who got into the second run of the World Cup run for the second time in his career, first being in December 2014.
Pinturault scores fourth consecutive win
Second run was opened by American Tommy Ford, who did not use the opportunity of a good course and failed to rise up the rankings. Cyprien Richard, however, managed to keep the errors to a low minimum and get into the finish area with a nice lead in front of his competitors that were already done for the day.
Many skiers tried to beat his time after that, but everyone seemed to miss it by just a few hundreds of seconds. It was not until Manuel Feller, who had the 14th best time of the first run, that someone managed to beat Richard's time. Feller did it with style and was 0.50 seconds ahead of his competitor. One by one skiers failed to see the green light in the finish area, Leif Kristian Haugen even trailed by 0.01 seconds behind the young Austrian.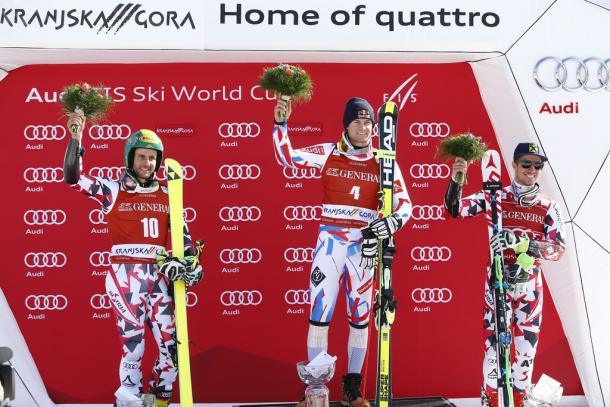 But after the normal TV break it was time for the top 8 skiers to do thei first run. Currently best skier in the world, Marcel Hirscher, on track for fifth consecutive big World Cup globe, released all his frustration after being ranked only seventh in the first run. It seemed that pouring out frustration did the trick as Hirscher got into the finish area with an amazing lead of 0.89 seconds in front of his compatriot Feller.
It was Mathieu Faivre's turn to try and beat Hirscher. Faivre was not near as impressive as Hirscher, but still managed to catch second place when skiing into the finish area. Henrik Kristoffersen had similar luck as Faivre and was unable to chip a few points off Hirscher in the important run for the big globe. Victor Muffat-Jeandet and Thomas Fanara, fifth and fourth in the first run were also unable to provide themselves a mistake-free run which resulted in quite a fall down the leaderboard for both of them.
With only three skiers at the top, another Hirscher podium was getting closer and closer. And it was confirmed less than a minute later, as Neureuther, despite having good intermediate times, skied off the course and was not able to finish the race. Schoerghofer was next at the starting gate. He had been in a high position like that before in Kranjska Gora, but he was not able to handle the pressure.
He showed a completely diffeent face today as he started aggressively and was able to keep the tempo until the very end and came into the finish area with 0.22 seconds advantage in front of the famous teammate. Only thing keeping Schoerghofer away from his second career World Cup win was the newly crowned giant slalom king – Pinturault. Unbeaten in giant slalom since Alta Badia last December. And as expected Pinturault even extended his lead in front of Schoerghofer and finished another race with a win, 0.47 seconds in front of his opponents.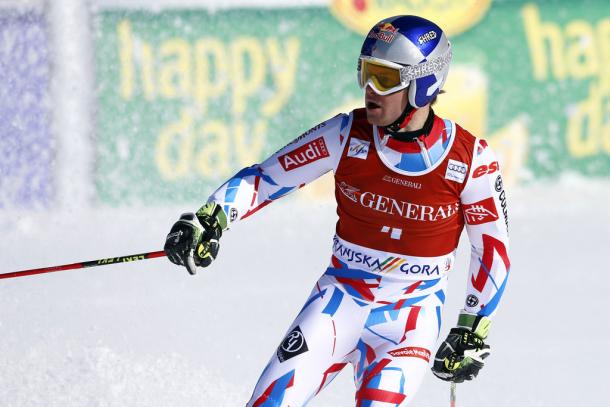 Pinturault gained another 40 points against Hirscher, the leader of World Cup giant slalom standings. The difference between the two is still 91 points, which will be quite a task for Pinturault considering there are only two giant slalom races until the end of the season. Hirscher has been very consistent through the season and it does not look likely that the trend will stop. Pinturault will have another chance tomorrow to gain some points against Hirscher and maybe hoping that he has an off-day. Third in giant slalom standings is already more than 200 points behind the leading Hirscher, thus having no chance to win the title.
Kranjska Gora Giant Slalom Results:
1. Alexis Pinturault (FRA) – 1:52.18
2. Philipp Schoerghofer (AUT) – +0.47
3. Marcel Hirscher (AUT) – +0.69
4. Henrik Kristoffersen (NOR) – +1.12
5. Mathieu Faivre (FRA) – +1.54
Giant Slalom World Cup Standings (8/10):
1. Marcel Hirscher (AUT) – 621 points
2. Alexis Pinturault (FRA) – 530 points
3. Henrik Kristoffersen (NOR) – 401 points
4. Victor Muffat-Jeandet (FRA) – 349 points
5. Mathieu Faivre (FRA) – 343 points