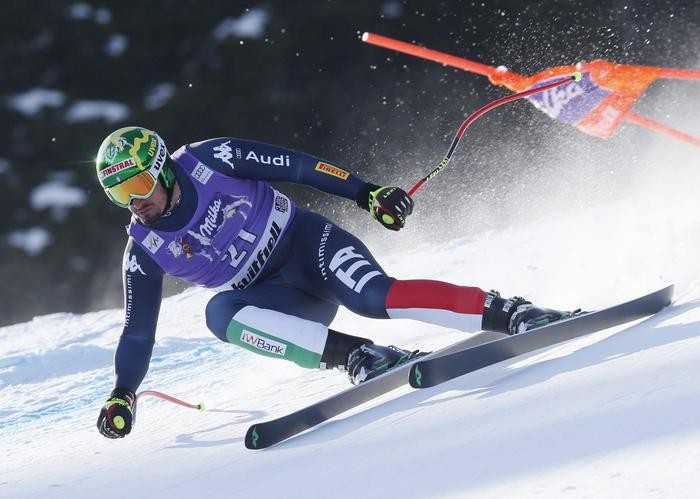 After a delay due to intense fog and poor conditions of the track, the Downhill finally took place in Kvitfjell. The home heroes led by Kjetil Jansrud were eager to perform well in their country. The conditions were finally ideal at midday (local time) to let the skiers perform the 10th Downhill of the season.
Paris Victorious In Norway
Dominik Paris flew over the track of the Downhill today in Kvitfjell. The Italian racer managed to ski a compact and aggressive top section, keeping the full commitment in the middle part. He then lost his advantage before the low part of the slope but gave everything in the finish, allowing him to cross the line with 0.24 seconds ahead of the provisional leader at that time, Steven Nyman.
In second place was Valentin Giraud-Moine. The 24-year-old signed the best performance of his career, as his former best result was a 12th place during the Super G in Jeongseon, a few weeks ago. He claimed his first ever podium by staying high on turns and technical sections, being compact on jumps and showing a great commitment. This wonderful podium brings back the smile to the French team after the injury of Guillermo Fayed yesterday during training. Fayed suffered from a rupture of the ACL of the right knee, and his season is obviously over.
Steven Nyman finished third today in Norway. The American skier signed a brilliant Super G, staying smooth but aggressive enough on the track. He managed to race a great last section of the slope, great enough to climb on the podium.
The local hero, Kjetil Jansrud, finished 5th in the same time as Beat Feuz. The Norwegian skied well in the top and medium sections but couldn't keep his advantage in the last part of the track.
Final Results :
Dominik Paris wins the Downhill in Kvitfjell 0.20 seconds ahead of Valentin Giraud-Moine and 0.24 seconds ahead of Steven Nyman.
The Race To The Downhill Globe To End In Saint-Moritz
The victory of Dominik Paris today in Kvitfjell completely re-launches the race to the little Crystal Globe of the Downhill between him, Peter Fill and Kjetil Jansrud. The suspense is then maintained until the World Cup Finals next week in St-Moritz. Peter Fill now leads the provisional classement with Aksel Lund Svindal (whose season is over after his injury in Kitzbühel) only 4 points ahead of Dominik Paris and 54 points ahead of Kjetil Jansrud. It is likely that the Globe of the Downhill specialty will go to an Italian at the end of the season.
2015/16 Downhill Overall Standings:
1. Aksel Lund Svindal / Petter Fill - 436 pts
2. Dominik Paris - 432 pts
3. Kjetil Jansrud - 382 pts
---
The Men's Alpine Skiing World Cup continues tomorrow in Kvitfjell with a Super G.