 Men's Alpine World Cup continued its weekend in Kvitfjell and Norwegians were the heavy favorites to score another World Cup win today. Out of six Super-G races this season, four were won by Norwegians. Another good indicator that we will see another win for the Vikings was that the last time anyone has beaten Kjetil Jansrud in Kvitfjell Super-G was all the way back in 2012.
Jansrud – King of Kvitfjell
Just like in the previous years, Jansrud proved he really is the King of Kvitfjell. It really seems that the home crowd gives Jansrud extra motivation. Bib 20 seemed to be a lucky one for him today as he came into the finish area with 0.17 seconds lead in front of Vincent Kriechmayr, who ended the race in second place as well.
Kriechmayr has been extremely consistent this year, only failing to score a Top 10 result once in Kitzbuehel, where he was 11th. The only thing really missing from Kriechmayr's repertoire this season is a win. Stepping onto the second podium of the season today also meant he reduce a bit of the points gap he still has against Aleksander Aamodt Kilde, who had a huge chance to secure the globe today already, but failed to convert the opportunity and ended the race in fourth place.
After yesterday's win in downhill, Dominik Paris managed to get in the podium position as well. Just 0.32 seconds behind the winner was seemingly thrilled Paris. This was his fifth podium this season, despite only getting his first podium of the season last month in South Korea. Despite being faster than Super-G standings leader Kilde, he failed to reduce the gap to less than 100 points, which means he's completely out of contention for the Super-G. He will have, however, a golden chance in downhill, where he is just four points away from the leader.
As mentioned before, Kilde could not handle the pressure in front of the home crowd and made the race for the Super-G globe even interesting. 0.47 seconds behind the leader Jansrud was not enough to even get on the podium. Fifth place was taken by Andrew Weibrecht, who has always been in quite a bad form the last couple of weeks, so this result kind of comes as a surprise from Weibrecht. He still has a mathematical chance to win the Super-G globe, but with 91 points behind the leader, his chances are next to impossible.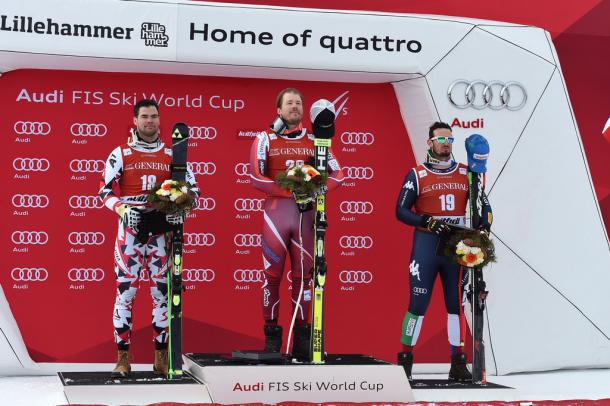 Can Kilde Handle The Pressure?
Fourth place for Kilde today was enough to jump in the first place in the standings, leaping past injured Aksel Lund Svindal, who is therefore out of contention for the globe. Just 37 points behind the young leader is6 Kriechmayr, who is 37 points behind and has big chances to win the globe in case Kilde fails to score a great result in St. Moritz in a few days. Trailing by 40 points behind Kilde is Kvitfjell Super-G winner Jansrud, who will try to repeat today's performance and hope for the best. If he won the St. Moritz Super-G all he'd need is Kilde on the third place or lower and the globe would be his to keep for the second year in a row. Weibrecht and Carlo Janka still have a mathematical chance, trailing by 91 and 92 points respectively. However, with Top 3 athletes all being in great form, their chances are close to none.
Kvitfjell Super-G Results:
1. Kjetil Jansrud (NOR) – 1:32.71
2. Vincent Kriechmayr (AUT) – +0.17
3. Dominik Paris (ITA) – +0.32
4. Aleksander Aamodt Kilde (NOR) – +0.47
5. Andrew Weibrecht (USA) – +0.68
Alpine World Cup 2015/2016 Super-G Standings (7/8):
1. Aleksander Aamodt Kilde (NOR) – 335 points
2. Aksel Lund Svindal (NOR) – 310 points
3. Vincent Kriechmayr (AUT) – 298 points
4. Kjetil Jansrud (NOR) – 295 points
5. Andrew Weibrecht (USA) – 244 points