 The Alpine Skiing World Cup Finals continued in St. Moritz with the super-G races on Thursday. The women's race was won by Tina Weirather of Liechtenstein.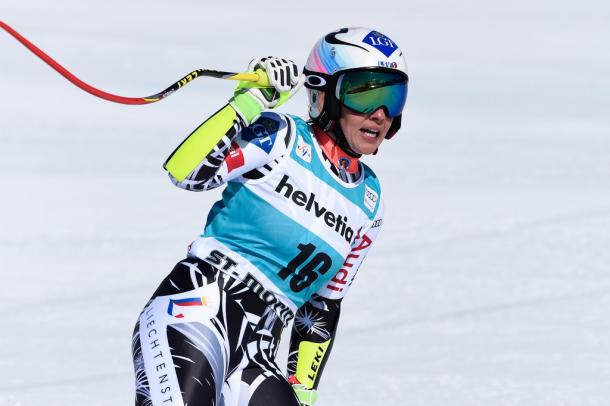 Weirather was the first of the super-G title contenders to start the race. Needing a win to keep her slim title chance alive, Weirather did exactly what she needed, beating the previous leader Kajsa Kling by 0.70 seconds.
Lara Gut was the next of the title contenders on the course. Gut couldn't match Weirather's run but went into second place, 0.41 seconds behind. That seemed to be enough to secure the title; she could afford finishing the race in sixth place if Weirather, or Cornelia Hütter, won.
By the time of Hütter's run, Gut was still in second place and already secured the top-six result and the super-G title. Although, the title race was over, the St. Moritz race wasn't; Hütter skied into third place, 0.59 seconds from lead, and bumped Kajsa Kling off the podium.
The remaining two skiers didn't change the order on top. Behind Kling, the top six was completed by Laurenne Ross (+0.95 seconds) and Viktoria Rebensburg (+1.10). The course setting appeared to be tricky; seven of the 24 starters failed to finish the course.
World Cup Standings
Lindsey Vonn was the super-G World Cup leader before the final race, yet unable to race due to her knee injury. In the end, Lara Gut won the title by 45 points to Tina Weirather and by 61 points to Vonn. Cornelia Hütter finished in fourth place of the discipline standings, 81 points from Gut.
The super-G title was the second discipline title in the career of the 24-year-old Swiss, the first was also in super-G in the 2013-14 season. Also, Gut had already secured this season's overall World Cup title before the super-G race.
The second place of the overall standings is also practically secured as Lindsey Vonn's lead to second-placed Viktoria Rebensburg is 188 points and Rebensburg doesn't race in slalom. The third place will get decided in Sunday's giant slalom between Rebensburg and Weirather, separated by 51 points.
---
The World Cup Finals continue with a mixed team competition on Friday at 12:00 pm local time (7:00 am Eastern time). The final technical races will take place on Saturday and Sunday.