 The Alpine Skiing World Cup Finals in St. Moritz continued on Friday with a mixed team competition.
Team Switzerland celebrated the win in front of their home crowd. On the way into the final of the knockout competition, Switzerland received a bye in the 1/8 finals, beat Norway in the quarterfinals, and Sweden in the semi finals. In the final Switzerland faced Germany which had beaten Canada in the 1/8 finals, Italy in the quarterfinals, and France in the semifinals.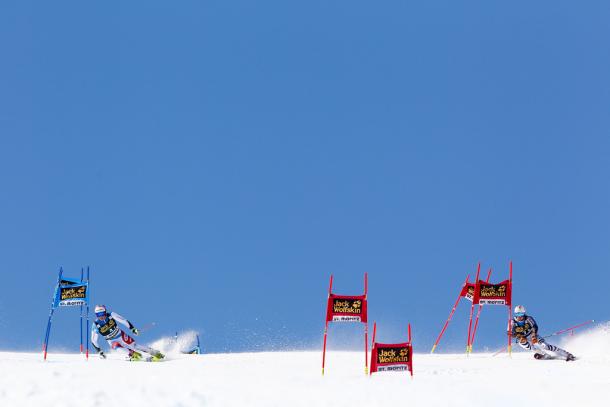 In the final, Switzerland's Wendy Holdener beat Germany's Katrin Hirtl-Stangassinger. Stefan Luitz leveled the final as Daniel Yule didn't finish his run. Germany took a 1-2 lead as Lena Dürr beat Michelle Gisin who didn't finish her run. Yet Reto Schmiediger leveled the final on his run by beating Dominik Stehle. As the final ended at 2-2, Switzerland won it with a better total time of two quickest runs. The winning Swiss team also had the Charlotte Chable racing in the quarterfinals and semifinals, and Justin Murisier who raced in no rounds of the competition
The third place was decided in the small final. Team Sweden beat Team France 3-1 for the third place.
Final Technical Races In The Weekend
The World Cup Finals conclude in the weekend with the technical competitions. Women's giant slalom remains as the only title to be decided in the final race whereas in all other standings but men's giant slalom the World Cup podium gets decided in the weekend's races.
In the most important of the standings, the overall World Cup, the third place is open in both men and women. In men's side, Marcel Hirscher has already secured his fifth consecitive title. Henrik Kristoffersen is also quite securely in second place as the last season's runner-up Kjetil Jansrud 129 points behind can't catch him in the giant slalom and he isn't expected to race, let alone score points, in the slalom. Yet Alexis Pinturault in fourth place is only 45 points behind Jansrud and has a good chance in the technical races to climb into his third consecutive overall World Cup third place.
In women's side Lara Gut has already secured her first overall World Cup title and Lindsey Vonn is quite safe in second place as Viktoria Rebensburg, 188 points behind Vonn, isn't expected to race in the slalom. However, the third place will get decided in the final giant slalom between Rebensburg and Tina Weirather, 51 points behind. Rebensburg is also racing for the giant slalom discipline World Cup title where she is 52 points behind the leader Eva-Maria Brem. The giant slalom title scenarios are explained in this article on VAVEL.
Below is the schedule for the technical races at the World Cup Finals.
Saturday, March 19
- 8:30 am local (3:30 am ET): Women's slalom (first run)
- 9:30 am local (4:30 am ET): Men's giant slalom (first run)
- 11:00 am local (6:00 am ET): Women's slalom (second run)
- 12:00 pm local (7:00 am ET): Men's giant slalom (second run)
Sunday, March 20
- 8:30 am local (3:30 am ET): Men's slalom (first run)
- 9:30 am local (4:30 am ET): Women's giant slalom (first run)
- 11:00 am local (6:00 am ET): Men's slalom (second run)
- 12:00 pm local (7:00 am ET): Women's giant slalom (second run)