 The final slalom of the Women's Alpine Skiing World Cup season took place in the penultimate day of the World Cup Finals. Mikaela Shiffrin of the USA concluded the season with her fourth season victory.
Shiffrin Dominates First Run
Shiffrin was once again the quickest on the first run. She lead the second-placed Frenchwoman Nastasia Noens by 0.72 seconds, whilst Wendy Holdener of Switzerland was in third place, exactly one second behind Shiffrin.
Frida Hansdotter had already secured the overall slalom World Cup title before the final race and the new champion wasn't at her best, losing 1.26 seconds to Shiffrin, finishing the first run in sixth place.
Velez-Zuzulová And Hansdotter Join Shiffrin On Podium
Hansdotter had a brilliant second run to join the podium contention. However her lead was short-lived as the following skier, Veronika Velez-Zuzulová of Slovakia, had an even better second run to claim the lead by 0.28 seconds. Those two remained in the lead as Nina Løseth failed to finish her run, and Velez-Zuzulová secured her spot on the podium after Holdener finished her run only in third place.
The second run had drama when the first run's second-placed finisher, Noens crashed, twisting her right knee in the incident and needing the assistance of the medical crew to leave the slope.
With Velez-Zuzulová and Hansdotter still leading the race, Shiffrin completed her victorty by setting the quickest time also on the second run to win the race in a dominant fashion by 2.03 seconds.
Hansdotter, Velez-Zuzulová, Holdener Make The Slalom World Cup Podium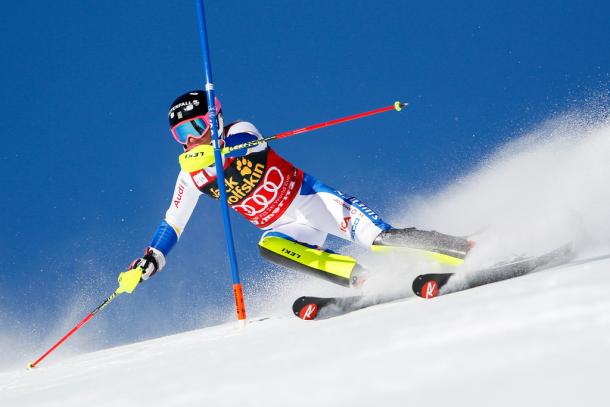 The previous two season's runner-up Hansdotter had already secured the slalom World Cup title before the final race. The standings' second place got decided in St. Moritz; with Velez-Zuzulová eventually finishing 65 points clear of Holdner to complete the top three.
Shiffrin was the winningest skier in slalom this season with five race victories. Yet missing five races due to a knee injury cost her the chance to race for the fourth consecutive slalom title. In the end, victories from the three slalom races after the injury break allowed Shiffrin to finish the season in fourth place, 211 points from the champion Hansdotter.
---
The women's World Cup concludes with giant slalom on Sunday. The first run starts at 9:30 am local (4:30 am ET) and the second round at 12:00 pm local (7:00 am ET). The World Cup title is open in giant slalom; the title scenarios are explained in this article on VAVEL.