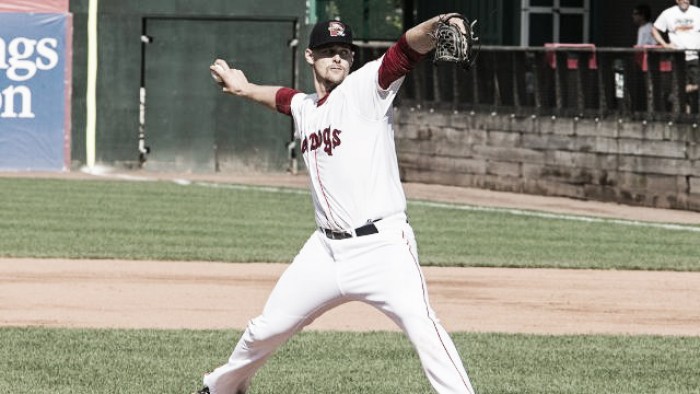 The Portland Sea Dogs have not made themselves familiar with winning or hitting home runs this season. They have six wins in twenty-two games, with just five home runs. Their record is worst in the Eastern League, and their home run total is next to last. They had not hit a dinger at their own Hadlock Field all season long.
So, looking to break an 8-game slide on Saturday afternoon, Portland jumped all over Reading Fightin Phils starter Nick Pivetta for three home runs, including back-to-back shots in the sixth inning, piloting the Sea Dogs to a 6-3 victory.
Justin Haley survived a rough first inning to earn the win with five innings of one-run ball. Pivetta took the loss after six innings of work, giving up four runs. Roman Quinn was the only hitter for Reading to record multiple base knocks, picking up two hits and a stolen base. Henry Ramos, Jake Romanski, and Jose Vinicio all had two hits for Portland. Romanksi and Vinicio both homered.
Reading grabs early lead; Portland responds in 3rd
Justin Haley was a little choppy coming out of the gate, giving up a leadoff single to Roman Quinn. Haley balked Quinn to second base before the speedy center fielder stole third base. This positioned Quinn to score on an RBI single from Jake Fox.
However, after the first inning, the Phils managed just one more hit off of Haley, a third-inning single. Portland managed to scratch out a run in the third inning to knot the game at one run apiece. Jordan Betts drew a leadoff walk and scored on a one-out triple by Henry Ramos, who drilled Pivetta's offering to right center field.
Unexpected power surge boosts Sea Dogs
With the game tied at 1-1, the Sea Dogs turned to the long ball, which has not been there all season for Portland, to jump ahead for good. And of course, starting the home run parade was the 145 pound shortstop Jose Vinicio, who has seven home runs in his career - and none since 2013. Vinicio worked a 3-1 count and blasted a high fastball into the right field pavillion to give Portland the 2-1 lead.
The 'Dogs weren't done either, with two more blasts still to come. After the rehabbing Carson Smith worked a scoreless sixth inning, Portland added insurance runs with two outs in the bottom half of the frame. Bryce Brentz sent a 407-foot blast over the left field wall for a 3-1 lead. He was followed by catcher Jake Romanski who twinned Brentz with a high fly over the left field wall for a home run, though his was not quite as far as Brentz's blast.
Phils rally but Sea Dogs provide quick answer
The home runs proved critical when Reading struck for two runs in the seventh inning. Williams Jerez issued a leadoff walk but induced a double-play ground ball. It looked like he might escape the inning but the Phils had one last gasp. Aaron Brown and Quinn doubled, sandwiching a walk, to score a run. J.P. Crawford singled in another run, drawing the Phils within one run.
Despite the rough outing, Jerez was still credited with the hold. Portland reinstated their three-run cushion with a pair of manufactured runs in the bottom half of the inning. Betts, Vinicio, and Ramos singled to load the bases off of Reading reliever Reinier Roibal. Roibal was yanked in favor of southpaw Hoby Milner, but Milner couldn't escape the inning, surrendering a two-run single to Tzu-Wei Lin. Milner got a double play and a ground out to get out of the seventh without further damage, but it didn't matter. Chandler Shepherd was dominant over the last two innings for Portland, striking out three batters and allowing just one walk to shut the door on Reading's rally.
Justin Haley looks good again
After a terrible 2015 campaign, Justin Haley did not get off to the best of starts in 2016. He lasted just two innings in his first start of the year, against these same Reading Fightin Phils. He followed that up with a shutout of the Trenton Thunder, but an elevated pitch count forced him to depart in the fifth inning. He was average his next time out, surrendering three runs over five innings.
In his most recent start, Haley was very good, allowing just four hits and two runs over seven innings against a very good Hartford YardGoats' team. However, due to a lack of run support, Haley took the tough-luck loss. Haley looked good again on Saturday, especially after the first inning.
Had it not been for a prolonged first inning, Haley might have lasted more than five innings. After the first frame, Haley allowed just two baserunners and retired the last eight men he faced. He struck out nine, seven of which came on his 90 mph fastball or his improved changeup. Haley also mixed in a slider and curveball to keep the Phils off balance.