 Day one of the biggest weekend in gymnastics this year had lots of shakeups, mostly for the positive. Several of the gymnasts had good scores tonight, including Simone Biles, who's the current all-around leader once again by a point.
Biggest winners of day one
The biggest winners of night one are Laurie Hernandez and Madison Kocian. Both girls had fantastic bar routines, giving themselves a huge boost simply for that event alone. What made their nights better than others though was their stock going up on other events as well.
Madison Kocian also had a very nice balance beam routine, getting her the 5th best score on that event on day one. Also, competing on all four events was a nice bonus for her, as she had a decent floor routine and at least attempted a vault.
Laurie Hernandez found a way to beat out Aly Raisman for second in the all-around after scoring over a 15 on the other three events.
Both girls, assuming they don't have a terrible day tomorrow, essentially clinched themselves a spot on the team in Rio.
Other day one winners
While Kocian and Hernandez went from contenders to likely locks on the team due to their strong performances tonight, there were several other winners. Simone Biles didn't fall and still holds onto the all around championship.
Biles had an excellent vault, the highest by a half point and the best floor score of the night by a quarter point. She also finished second on beam with a 15.2 behind Laurie Hernandez' 15.5.
Aly Raisman was also a winner. She was a favorite to earn a spot heading in also, and certainly didn't disappoint. She finished with the third best vault behind Biles and MyKayla Skinner with a 15.25. She finished behind Hernandez, Biles and Ragan Smith with a 14.8 on beam also. Raisman also opened with a solid floor routine, earning a 15.45 which was good enough for second behind Biles.
Day one over-achievers
There was also a third group of winners, who had a big night that keeps them in contention for a spot on the team should something go terribly wrong with someone else.
Ragan Smith had the third best beam of the night despite a yellow deduction score, earning a 14.9. Smith didn't do too bad at any other events either, as her lowest score on the night was a 14.5 on floor.
MyKayla Skinner had a big night, earning the second best vault score with a 15.5 and the fourth best score on floor with a 14.8, actually getting her up to the fourth spot in the all-around standings.
Maggie Nichols is also in this group, of girls who helped themselves on a particular event or set of events. Despite a fall on the balance beam hurting her all-around score, she still had a solid day on the events that mattered to her. Nichols finished tied for fifth on Vault with Gabby Douglas, earning a 15.1, and tied for fourth with MyKayla Skinner on floor, earning a 14.8.
Gymnasts who had a bad night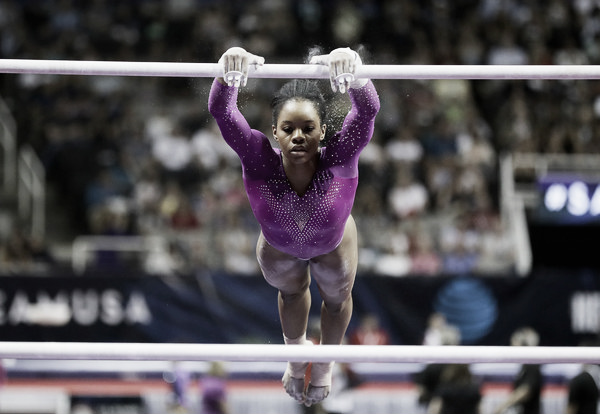 While there were several winners tonight, there were also some who could qualify as losers.
Amongst them is Gabby Douglas, who had a very rough night by her standards. Her key event of uneven bars she only scored a 15.1 out of a potential 16.6. Vault was her best event tonight, earning only .7 in deductions, getting a 15.1 out of 15.8.
Also having a forgetable night was Ashton Locklear. While she had a beautiful bars routine tying Madison Kocian for first with a 15.75, she fell off the balance beam, earning the third lowest score on the night with a 13.2. She also did not compete on vault or floor, giving her a disadvantage compared to Kocian as well as last place in the all-around by a significant margin.
Unfortunately, there was also the group who couldn't help themselves. Emily Schild, Rachel Gowey, Christina Desiderio, Brenna Dowell and Amelia Hundley couldn't break through the crowd at the top in day one, and face an uphill battle to earn a spot on day two. None of the groups scores were in the top five on any event, which is a concern for their hopes in Rio.
Projected team after day two
While it's tough to determine a team based on just one night, four of the five spots seemed pretty clear at the moment. It's likely that pending a disaster on Sunday that Biles, Raisman, Hernandez and Kocian have earned their spots as part of the five woman team in Rio.
The final spot will come down to several people though, including Douglas, Skinner, Smith and Nichols depending on how Sunday goes. As of now, there still appears to be a slight edge in favor of Gabby Douglas, but MyKayla Skinner with another solid night could easily overtake Gabby's spot on the team despite not being on the London team. Martha Karolyi has said that she is looking for what gymnasts can do for her now, and at least at Olympic trials, MyKayla Skinner has the momentum in her favor.
An event by event breakdown could look something like this:
Floor: Biles, Raisman, Hernandez
Beam: Hernandez, Biles, Raisman
Vault: Biles, Skinner, Raisman
Bars: Kocian, Biles, Hernandez
If Gabby Douglas were chosen over Skinner, it would likely look something similar to this:
Floor: Biles, Raisman, Hernandez
Beam: Hernandez, Biles, Raisman
Vault: Biles, Raisman, Hernandez/Douglas
Bars: Kocian, Douglas, Biles
Some answers; more questions
While we may have gotten some answers on key questions entering night one, there may be even more questions heading into day two.
With Sunday night being the last time the general audience gets a chance to see any of the gymnasts compete before Rio, there are still several performances still left to see. Will Gabby Douglas redeem herself and claim her spot back for good? Will Madison Kocian continue off her recent successes and officially outlast Ashton Locklear? Can Laurie Hernandez have yet another strong performance and show the consistency that Martha Karolyi is looking for on multiple events? Sunday will certainly be a nerve-wracking yet very fun night to watch as a viewer.