 On the final day of Rowing action at Rio 2016, Kim Brennan was rarely troubled today as she eased to victory in the Women's Singles Sculls in a time of 7:21.54, winning her maiden Olympic title after a bronze in this event at London 2012, as well as a silver in the Double Sculls the same year.
The Australian eased ahead and the race was virtually over at 1500 meters, with America's Gevvie Stone winning the battle for the silver medal, and Duan Lingli of China taking the bronze.
How they lined up
Lingli of China, the fastest women into the final, was in lane four whilst the second fastest qualifier, Brennan, in lane three.
American Stone lined up next to Brennan in lane three whilst Emma Twigg of New Zealand looked to improve on her form so far in lane five.
Magdalena Lobnig of Austria was in lane six whilst Jeanie Gmelin, the slowest qualifier into the final, was in lane one.
Brennan in control throughout
With defending Olympic champion Miroslava Knapkova failing to make the final this was a big opportunity for everyone in the race, and the early stages seemed to suggest it would be Brennan.
The Australian was already up within the first few hundred meters whilst the other racers were pretty even; Brennan was already a boat's length up at the 500-meter stage, 2.64 seconds ahead of Lingli in second and an extra 0.14 seconds ahead of Stone in third.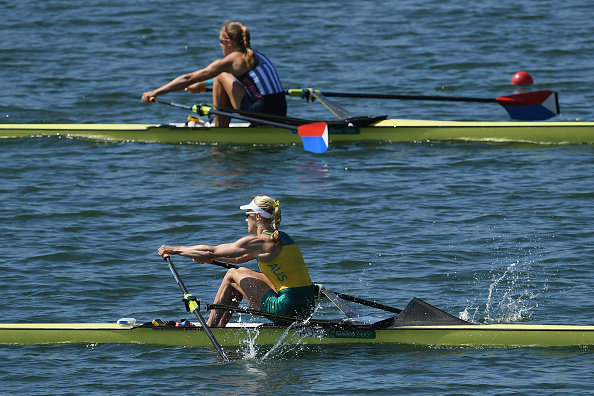 With Brennan's lead not really changing, the second stage of the race saw the Chinese rower create a small gap ahead of Stone, though the American came back strongly and was 0.03 seconds ahead of Lingli in the battle for silver at the halfway stage.
With Brennan's lead a staggering 3.72 seconds at 1000 meters, it seemed unlikely she would be caught, and though the rest of the field came slightly closer she had virtually won the race.
Behind her, Twigg was nearing slightly closer to Stone and Lingli, though a big final 500 meters would have been needed for the New Zealander to get a medal and she failed to deliver.
The Australian was easing to gold and the main race was now for the minor medals. Twigg had a chance to close the gap but never really made up any ground, with Stone taking the silver and Lingli holding on for bronze.
Twigg came in fourth, with Gmelin in fifth and Lobnig in sixth.