 After finishing 1-2 in qualifying, Simone Biles and Laurie Hernandez will not be finishing with the gold and silver medals in balance beam. Sanne Wevers would take gold for the Netherlands, Laurie Hernandez would win silver for the United States, and Simone Biles would finish in third with bronze despite a beam grab.
Biles will earn her first bronze medal, and come home with yet another medal from Rio 2016. While it may not be gold as many expected, she still continues to try and surpass the number medals of any color during a single Olympics with 5.
Simone Biles only has floor left
After winning gold in the vault finals, as well as all-around and team finals, Biles is only down to the last women's event; floor exercise.
She will be entering the floor exercise finals with three Olympic golds, looking to make up for balance beam and try for four Olympic golds. While Nadia Comaneci may not think she's the best gymnast ever, she's certainly had the best quad of any women's gymnast ever.
What makes Biles the best gymnast this quad is her versatility and that she competes well on all four events. While she isn't the best on bars (as she didn't qualify for the event final), she is the best at everything else.
While it's unfair to compare eras, particularly with the multiple changes in code and equipment, Simone is certainly the best gymnast now, and if there was a Hall of Fame for gymnastics she would certainly be in it with just her performances this quad.
First individual medal for Hernandez- not the last?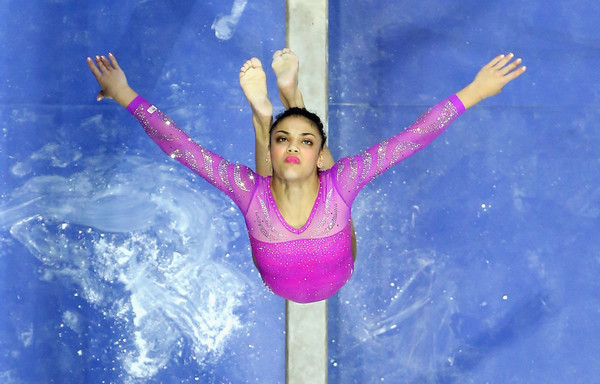 Laurie Hernandez has earned her first Olympic individual medal with a silver on balance beam. This may be her first individual medal, but it likely won't be her last. At only 16, she will only be 20 for Tokyo in 2020, and should be able to lead Team USA including to another all-around medal.
She finished just behind Sanne Wevers of the Netherlands of gold, and much like Madison Kocian vs Aliya Mustafina yesterday during uneven bars, it appears another toss-up decision went against the United States, but it once again doesn't appear to be rigged. This time, an inquiry was put in on her score, and was denied.
Her Olympics are over, but she should still be happy after earning gold in team finals and silver on balance beam. She'll join Madison Kocian with one of each.
Netherlands earns first women's medal of any color
The Netherlands has earned the first medal of any color in women's gymnastics thanks to Sanne Wevers, who will leave Rio with a gold medal around her neck. It will be the Netherlands 6th gold medal in Rio.
Sanne Wevers had an excellent routine and deservedly won her first Olympic gold medal. Her use of turns was very well done, and added enough extra difficulty to surpass Laurie Hernandez for the gold medal.