Another Olympics has past, and one thing has remained the same. China is still the dominant force in table tennis. They swept the gold medals for the third straight Olympics, winning gold in Men's Singles, Women's Singles, Men's Team, and Women's Team competitions. With the Rio Olympics a week in the past, we turned to Pavitra Ganesan and Aidan Thomas of VAVEL USA, who gave their opinion on takeaways from the Olympic Table Tennis tournaments in Rio.
China's dominance continued in 2016...did you see any signs that it would end any time soon? Which individuals or teams could potentially threaten China's spot at the top of the table tennis world in the years to come?
Pavitra: China barely lost much games in both the singles and team events. Especially in the team events, not one team came close and it is quite hard to see any other team coming close to threaten their dominance. In the years to come I sense Japan may potentially threaten and more likely in the singles. Mima Ito is barely 16 years of age and is already showing her potential. She is definitely one to watch. Japan which is known to produce prodigies could come close to China sometime in the future again.
Aidan: China showed very few signs of cracking in Rio, in regards to their table tennis play. China won gold and silver in both singles tournaments. However, for individuals, a few youngsters in the world of table tennis could challenge the Chinese paddlers at the top of the podium in years to come. Kim Song-i, ranked 50th in the world out of South Korea, won the bronze medal and gave gold medalist Ding Ning a challenge in the semifinals. Ito has been very good, but she didn't play in the singles in Rio. Watch out for Ito and Song-i in Tokyo, in 2020.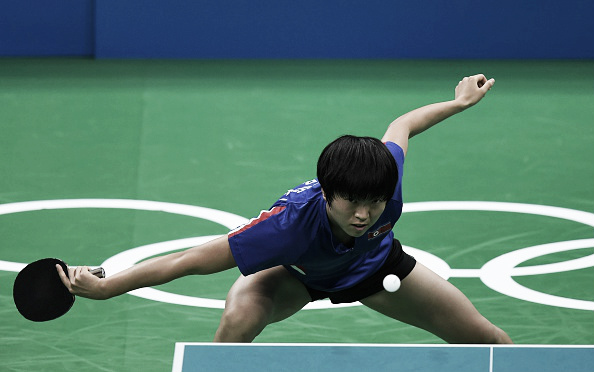 Does America have a chance at competing internationally any time soon, or will this remain a Asian and European dominated sport?
Pavitra: It is always going to be hard for a country like America where the focus itself is lacking in this sport. However they have shown their interest by fielding players and perhaps with the right coaching and practice they can slowly develop and grow themselves. The chance is there but I would say it will be difficult to achieve in this era.
Aidan: I'd have to agree with Pavitra on this one. America has never ranked high in the world of table tennis, and it could be a very long time before they contend at the Olympics. They took some major steps in 2016, with Lily Zhang reaching Round 3 of the singles tournaments, and they were able to field a team in both the women's and men's team tournaments, something they hadn't done before. There is a spark of hope, but it will be tough for America.
3. Who, in your opinion, is the biggest rising table tennis star?
Pavitra: Kim Song-i from Korea in my opinion is the biggest rising table tennis star. Though Ito, who is just 16, will no doubt get better, she has already shown her potential reaching top 10 rankings. Kim however, currently 50th in the world rankings, stunned a number of seeds with her defensive play to clinch bronze at the Olympics. It was a great achievement for the 22-year-old, and hse has proven she can compete amongst the best. I believe she has what it takes to be one of the best defensive player in the years to come.
Aidan: While Song-i has been excellent, I think Ito is going to be next big thing in table tennis. She didn't compete in the singles tournament in Rio, but she will likely do so in Tokyo. She helped lead Japan to the bronze medal in the women's team competitions, and she didn't seem flustered despite her youth. She will compete for a medal, potentially even a gold in Tokyo - she has already beaten Ding Ning in her young career.
The table tennis events were excellent in Rio, and we thank you for tuning in to VAVEL's coverage of this even over the past two weeks!