Last season, Levi couldn't welcome the slalomers for their first world cup. The white circus is back this year in Lapland; a dream resort. Mikaela Shiffrin showed us once again why this is her best discipline.
First run
Mikaela Shiffrin put everyone in agreement. Shiffrin is always so beautiful to watch, the skier stayed smooth all track long. She aknowledged the different parts in the best way possible, while still being agressive on the wall and smooth on the last plane part.
In second position, with the exact same time, were Frida Hansdotter and Wendy Holdener. They finished 0.72 seconds after Shiffrin. Both skied with much commitment, creating a lot activity between the gates. Despites little faults on the wall, they stayed competitive enough to keep in touching distance of a place on the final podium.
The great surprise of the first run was Mélanie Meillard. The young Swiss racer finished behind Petra Vlhova, at the 5th provisional place. With her bib 40, the 18 year old showed great qualities on snow and a wonderful will to do well
Second run
Mélanie Meillard skied the best result of her career. At only 18 years old, she made a huge impression finishing in the 6th place (first top ten) and qualifying for the world championships next february in Saint-Moritz.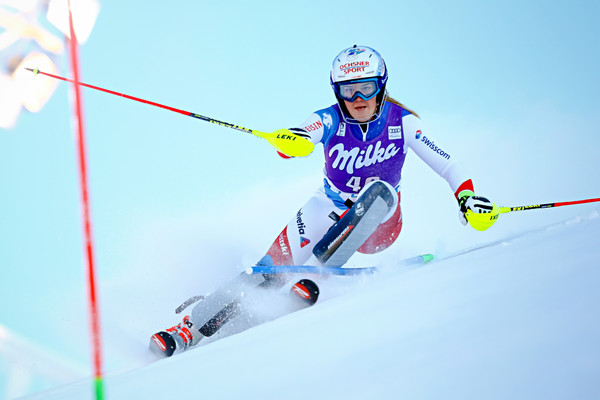 Maren Skjoeld rose the highest on this day. At the 16th place after the first run, the Norwegian skier managed to put everything together to claim the 5th place. That is the best result of her young carreer.
In 4th position stood Veronika Velez-Zuzulova. Despite great upper and low part punctuated by a wonderful skied wall, the Slovakian did not end on the first slalom podium of the season. Her compatriot, Petra Vlhova, skied close to the gates and then reaped a lot of speed. She finished in third place.
Wendy Holdener took second place. She skied with commitment, as always, to claim a place on the podium. The Swiss racer showed her committment to begin the season.
Frida Hansdotter, unfortunatelly, straddled on the wall. This is extremely rare to see her do faults that cause her to get out of the track.
This is Shiffrin's 9th consecutive victory on the Slalom World Cup, the 20th of the speciality, her 21st overall. Mikaela Shiffrin extands her domination in Levi. The American skier, always smooth, stayed at the closest of the gates. She skied a perfect wall before smashing the plane part of the track. Shiffrin finally claims her second victory in Levi. She also wins for the second time a lovely prize, a reindeer. We wonder now how she will name him!
Final results: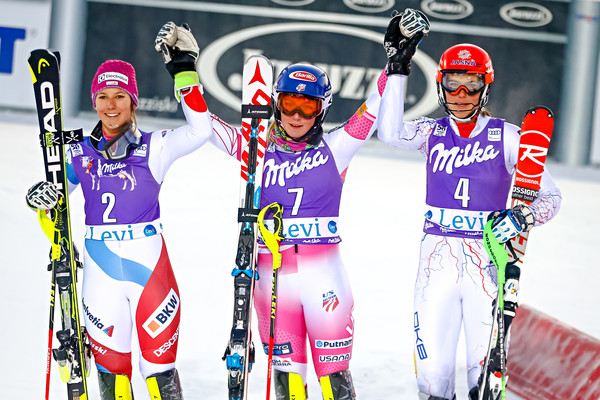 Mikaela Shiffrin wins the Slalom of Levi (1.52:71) 0.67 seconds ahead of Wendy Holdener and 0.75 seconds ahead of Petra Vhlova.