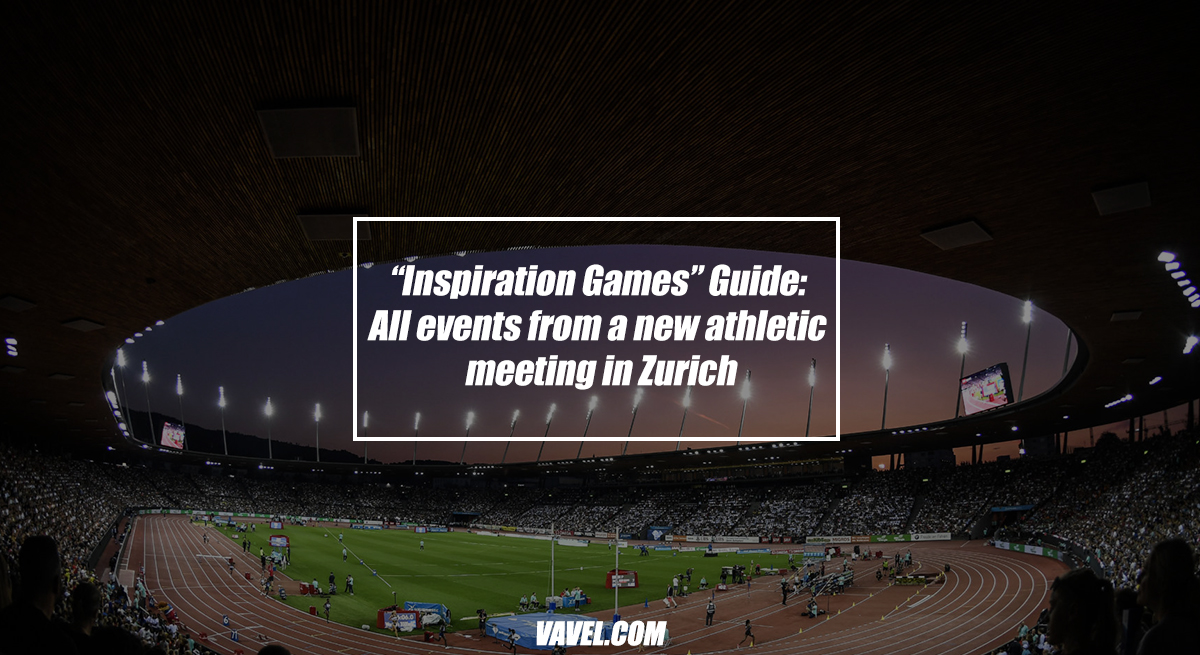 Next Thursday, July 9th, the famous meeting of Zurich from Wanda Diamond League will be celebrated with a new name: "Inspiration Games". This new format presents some athletics disciplines adapted to the current situation that prevent the celebration of athletics as we know. The "Inspiration Games" will be like the "Impossible Games" celebrated in Oslo last month but with more events and athletes.
Although some Diamond Leagues' meetings are planned to be celebrated, if nothing changes, from August 14th (except Paris and Eugene), this league is being adapted with new names and new rules at the meetings. They do not want to find winners. They just try to keep the sporty spirit of athletes and fans alive in this strange year and make athletics to not be paused because of the pandemic.
The "Inspiration Games" arrives with a major evolution. "Impossible Games" only had three disciplines. Now, the "Inspiration Games" will see 30 track and field athletes in eight different activities that will be held in seven different stadiums: One in each US coast, one in Portugal, one in France, one in The Netherlands, another on in Sweden and the one in Zurich. The principal idea of the Wanda Diamond League has been to take athletics to wherever the athletes are and make Zurich the principal stadium.
So, next Thursday, July 9th, these athletes will compete in these events:
POLE VAULT MEN (19:35h CEST)
This event seems to follow a similar dynamic that was used at the "Impossible Games". Last June, Swede Armand Duplantis and Norwegian Pål Haugen Lillefosse competed live in Oslo stadium against French Renaud Lavillenie who filmed his performance at his backyard in France days before.
In this new competition we still do not know if everything is going to be live or some jumps will be filmed, but, three important athletes will date at the "Inspiration Games": the double and current World winner Sam Kendricks (US); the bronze medal at Doha 2019, Piotr Lisek (PL) and the sixth qualified at Doha World Championship, Valentin Lavillenie (FR).
Sam Kendricks's last appearance was at "The Ultimate Garden Clash Pole Vault" in May, while Piotr Lisek's last appearance was last week in a Gothenburg meeting where he competed against Lillefosse and Duplantis. The Swede set the best mark of the season in this competition.
En närmare titt på Armand Duplantis världsårsbästa och det nya stadionrekordet på Ullevi. 5.94 för Mondo! pic.twitter.com/yhmb9hBnw8

— Dplay Sport 🇸🇪 (@Dplay_Sport) July 4, 2020
On the other hand, Valentin Lavillenie has been a last-minute addition to the list to replace his brother, the former world record holder Renaud Lavillenie, who has recently undergone a thumb surgery because of an accident at home while he was training.
POLE VAULT WOMEN (19:35h CEST)
At this event, which will follow the same rules as men pole vault, three important athletes will compete: the European bronze medal, Angelica Bengtsson (SE), the Olympic runner-up and double silver medalist at the World championship, Sandi Morris (US); and the Olympic winner, World Winner in 2017 and double gold medalist at the European championship, Katerina Stefanidi (GR).
The last appearance of Stefanidi was at "The Ultimate Garden Clash Pole Vault" for women last May where she became the winner of the event.
TRIPLE JUMP MEN (20:05h CEST)
Wanda Diamond League has not specified exactly how the triple jump men activity is going to be. However, this event alternates athletes so; it could follow the same dynamic as the pole vault event. Three athletes will participate: the Pan-American winner Omar Craddock (US); Pedro Pablo Pichardo (PT), who has two World Championship gold medals and ended fourth at Doha 2019; and the four-time World Winner, Christian Taylor (US).
From here, the "Inspiration Games" add news to the events: speed and hurdles disciplines will be celebrated at the same time from different stadiums around the world. In a Weltklasse Zürich video, they explain that these events will work like this:
150m WOMEN (20:10h CEST)
It will be the first race separately of Wanda Diamond League's history. For this special moment, they wanted to reunite three great athletes: the European bronze medalist at 100 m, Mujinga Kabundji (CH); the 2015 World runner-up and Olympic champion of 400m, Shaunae Miller-Uibo (BH); and the Olympic silver medalist in 2004 and 2008, the Olympic winner in 2012, and World winner in 2005, 2007 and 2009, Allyson Felix (US)
100m HURDLES MEN (20:27h CEST)
Hurdles races will follow the same rules as speed races. The competitors will be: Andre de Grasse (CA), who won a silver medal at 200m and bronze at 100m and 4x100 in Rio 2016; the current Olympic and World winner in 2017 at 110m hurdles, Omar McLeod (JM); and Jimmy Vicaut (FR), whose personal best at 100m (9.86) gives him the title of the fastest European athlete and match the European record of Francis Obikwelu in Athens 2004.
300m HURDLES WOMEN (20:41h CEST)
At this event will compete: the current World winner at 400m hurdles, Zuzana Hejnová (CZ); the Indoor World champion at 4x400, Georganne Moline (US); and the European winner at 400m hurdles, Léa Sprunger (CH)
200m MEN (21:06h CEST)
At this race, three titans of the modality will compete: Christophe Lemaitre (FR), known for being the first athlete who broke the 10-seconds barrier at 100m; the double gold medalist in Doha 2019, Noah Lyles (US); and the European champion at 100m, Churandy Martina
3x100m WOMEN (21:20h CEST)
This last event will be a women duel between three countries: The United States, The Netherlands, and Switzerland.