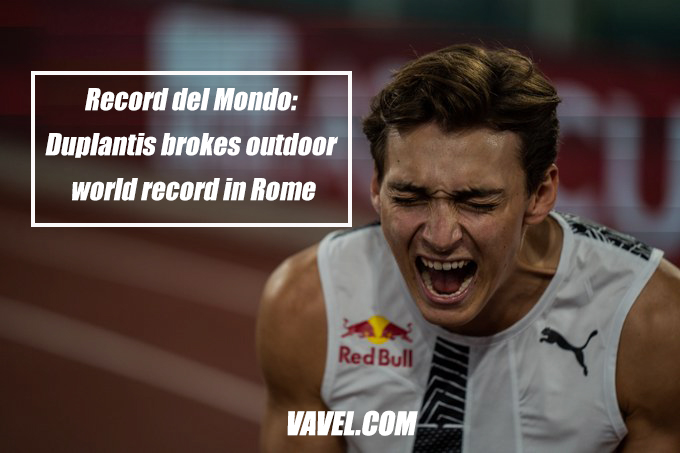 Many things in life are ruled by time. There are lots of expressions in the English language which use "time": as time goes by, to be behind the time, to be on time, a matter of time, race against time, time after time… Everything needs time to be. But, time, to keep being needs other things: timing, persistence, momentum, and lots and lots of patience.
Any athlete knows this life law. They know that marks do not appear in the scoreboard just because they happen. They need time. And work. Confidence in themselves and in the sport they practice. Marks are not a magic trick. They are not only numbers. They are much more. They tell stories, they have a history and make history. Curious, isn't it?.
Mondo Duplantis knows that. Maybe, he has never said a word about this statement, but he knows that the 6.15m outdoor world record he set in Rome last September, 17th is not just a mark. 6.15m isn't just a second attempt jump cleared luckily after a whole strange season trying to achieve this goal. He knows that. But this is the piece of news: Duplantis set a new world outdoor record in Rome at the age of 20 last September, 17th. He also broke the Diamond League Record, set a new national record in Sweden, and a new meeting mark in Rome... So many things in just one jump.
The Duplantis's 6.15m mark tells, like any other record, as we have said lines before, a story. If you ask Mondo next month, next year, or even next decade about that time he jumped higher than any pole vaulter has ever done before in the history of the discipline, he maybe will tell you his feelings about that: "It's just a relief", he admitted to World Athletics minutes after one of the biggest moments of his short but intense career.
"It's just a relief"@mondohoss600 on his 6.15 clearance#DiamondLeague #RomeDL pic.twitter.com/Vbw0MdYjie

— World Athletics (@WorldAthletics) September 17, 2020
This Diamond League meeting in Rome has been particularly irregular for Mondo Duplantis. He had "really good jumps today and had really bad jumps", as he said in the interview. He started at 5.45, a height he has always skipped to start during the whole season. Then he tried 5.70, skipping out the attempts at 5.60. He cleared 5.70 and 5.80 at the first jump, but 5.85 first attempt worried him. Duplantis admitted that this irregular performance was unexpected and "strange" for him. He knows how he feels when he is at the right time and in the right place – like in February when he broke the world record twice. So, he decided to focus his goal that evening into winning, instead of breaking the record. And he did it. "After I jumped six meters, I realized that I had the potential to make 6.15 today so… It's is just a relief. It just gets off my chest", concluded Mondo.
The other story that this record tells is more like a fun fact. As it is read in the headline of this article, it is pretty funny and easy to make a game of words with this piece of news. Mondo Duplantis's real name is Armand. His nickname, 'Mondo' comes from one time an Italian friend of his father called him like that. 'Mondo' in Italian means 'world', and Duplantis has broken this world record at the historical capital of Italy. So, it is an open and shut case easy to tell.
6⃣.1⃣5⃣

Outdoors. #RomeDL

📷 @coopsrun pic.twitter.com/bOFDpFQo1n

— Wanda Diamond League (@Diamond_League) September 17, 2020
And also, as we said lines before, any record has a history.
This goal is being a suitcase he has been carrying on the way of every outdoor meeting of this year. On his luggage, there were always poles (except that time he flew to Monaco's meeting without them and his mum took them there by car from Sweden), sports clothes, and the 6.15m dreamed jump.
There is a lot of confusion with the pole vault world record. This discipline is the only one where you can break a world record indoor or outdoor. The former world record holder, Renaud Lavillenie, set the world record six years ago at 6.16. It was indoor, and he broke the Sergey Bubka's indoor record set at 6.15 in 1993. Both were world records, but just one of these athletes was the man who had jumped the highest in the history of pole vaulting: Bubka.
Twenty-six years ago, Bubka set the world outdoor record at 6.14. It seems pretty confusing and silly to separate both records: indoor and outdoor. But it has a simple explanation. Both are records, but the indoor record is easier to break than the outdoor one. Why? Outdoor has disadvantages like weather, wind, or even lightning (like in Lausanne's meeting) that can distract the pole vaulter. These drawbacks took its toll to Duplantis in Berlin and Stockholm meeting when he tried to overcome Bubka.
At Rome, the weather was on point and there was no wind, so, everything was just on Mondo's hands. And he made it.
All this world outdoor record achievement has just been a matter of time. Since he broke the world record last February, the outdoor one was just about time. He is been trying time after time, meeting by meeting during this strange athletics season until he got it. He has been persistent, patience and he has worked hard to be at the right place, at the right time, to have the time of his life. He has pole vault in veins and he is just 20 years old. He still has a long career to enjoy.
Mondo Duplantis was born to fly, and he is going to fly for a long time.