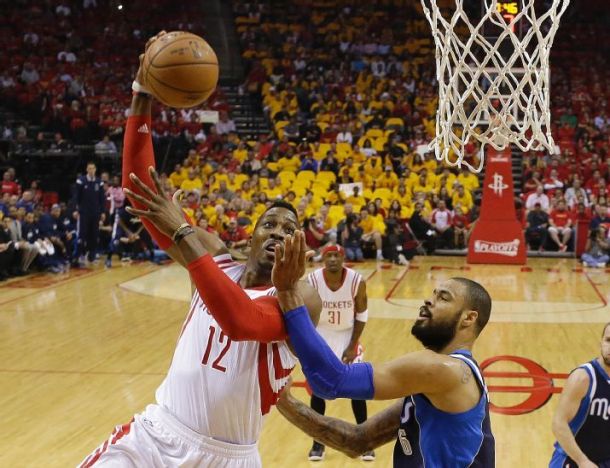 James Harden was in top form the Rockets, as Houston defended their home court for the third time in the series, defeating Dallas 103-94 to advance to the second round. They will face the winner of the Spurs-Clippers series.
The game was never really in doubt, as Houston jumped out to a big lead after the first quarter once again at 31-22. From there, the Rockets never let up, as they were able to advance to round two of the Western Conference Playoffs.
Harden led the team with 28 points, while Dwight Howard had a double-double of 18 points and 19 boards. Josh Smith added 20 and Terrence Jones came up big in the fourth with 10 of his 15 points in the final 12 minutes to spur the Rockets on to victory.
Dallas, as they could not most of this series, was not able to get any balance offensively. Dirk Nowitzki scored 22 and Monta Ellis led the team with 25 as they accounted for half of the Mavericks points.
Despite trailing all game, the Mavericks made it interesting with a 7-0 run in the fourth to slice a 10 point deficit down to three with five minutes to play. Then, Jones caught fire for the Rockets, and the Mavericks couldn't overtake the Rockets as Houston sealed the deciding victory.
This series loss starts an interesting offseason for the Mavericks, who will undoubtedly move on from Rajon Rondo and thus will have to look for a new starting point guard in the offseason. There are other questions—the team is getting older, Tyson Chandler and Dirk aren't who they used to be, and Monta Ellis is a free agent. This offseason will be crucial if the Mavericks want to become a real contender in the west and win a series in the playoffs for the first time since winning the NBA Finals in 2011.
For Houston, they will face one of two teams that have the potential to cause them problems in the second round. But they will have more rest than their opponent, because the first round series between the Spurs and Clippers looks like it could go the distance.