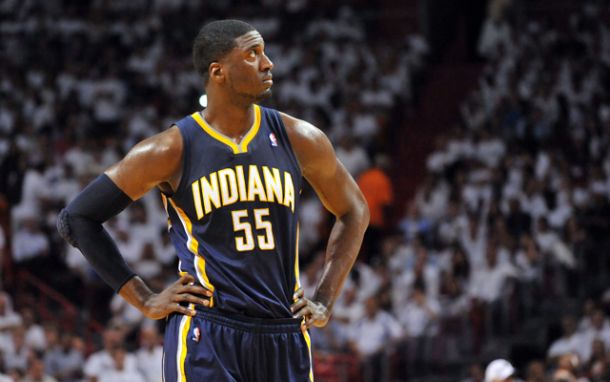 INDIANAPOLIS -- The Indiana Pacers have announced that they have officially traded Roy Hibbert to the Los Angeles Lakers for a future second round pick. There was past speculation regarding what exactly the Pacers would receive for Hibbert, however, it turns out they will be simply receive a second round pick. Various NBA insiders were previously speculating whether or not the Pacers would receive a small-to-mid sized contract in return for this trade. Some of the players that were rumored to have been added to this trade were Nick Young, Larry Nance Jr, Ryan Kelly, and Robert Sacre. Of course not all of them were in the same scenarios, according to the insiders, but they were names that were floated around in the rumor mill.
Los Angeles will be absorb all of Hibbert's contract since they are only trading a future second round pick. This allowed the Pacers to clear $15,514,031 million in cap space. Indiana agreed to sign Jordan Hill hours after the Roy Hibbert trade, adding him to their group of big men. There are still a few other holes on the roster, but it appears that a majority of the significant pieces are in place. Roy Hibbert waived part of his 'trade-kicker' so the Pacers won't have any additional salary cap effects from this trade. Waiving almost all of the 'trade-kicker' allowed for the Lakers to sign Brandon Bass.
For those wondering why the Pacers didn't seek more compensation in the trade is simple, they wanted to dump Roy Hibbert's salary. Indiana knew that Hibbert's value was at an all-time low so they wouldn't be able to be picky in trade talks. Moving Hibbert's massive expiring contract was the only concern as they wanted as much remaining cap space as possible in order to acquire more fitting pieces. There wasn't a willing third team to engage with the Lakers and Pacers so Indiana had to choose from the Lakers' roster. Los Angeles had no fitting players on their team, therefore, the Pacers elected to receive simply a draft pick.
Indiana wanted to quickly 're-tool' their roster to fit a fast paced team that could compete in the Eastern Conference. It appears that they have done exactly that so far this off-season. Indiana has signed Monta Ellis, Rodney Stuckey, Lavoy Allen, and Jordan Hill. They also drafted Joseph Young and Myles Turner. With existing players like Paul George, George Hill and C.J. Miles, the Pacers are looking at a nicely done rebuild. Indiana may not be done making moves, but the team could very well be good with the current players that they have.
An interesting perspective on this Roy Hibbert trade would be to think of this as a free second round draft pick. Remember back at the beginning of the off-season when Larry Bird made comments that made it sound like the team wanted Hibbert to opt out of his player option? Indiana wanted him to walk into free agency so they didn't have to take on bad contracts. So the fact they didn't have to do that and they acquired a second round pick in the process is a bonus. Indiana wanted cap space to sign players that actually suited the style of play that they desired, moving Hibbert was a must.
Indiana appears to have quite the center position battle brewing. The team currently has Myles Turner, Jordan Hill and Ian Mahinmi, all likely playing the center position this year. This will be a fierce competition for minutes, however, it appears that Mahinmi will be the odd man out in this situation. Turner has already shown in the Orlando Summer League that he is the best center on this roster, so it will likely be up to Hill and Mahinmi to battle for the second string center position. Since the Pacers just signed Hill it appears that they are more committed to as oppossed to Mahinmi.
Many fans are concerned about the Pacers' options at the power forward position. Larry Bird has recently mentioned playing Paul George 'a lot' at the power forward position, which may be the best option both defensively and offensively. Many are concerned about George being able to handle low-post defense and being able to stay out of foul trouble because of his lack of size. Since his injury, Paul George has added a lot of muscle to his frame. George currently weighs in the 235-to-240 pound range, according to reports. That is more than enough size to play the modern day power forward position. The concerns of the fans shouldn't be issues, meaning that the power forward position isn't a hole. George simply needed improvement in strength to be a great post defender, and when you combine his length and athleticism it could really cause problems for opposing players when they are attempting shots.
Based off of the current roster, this is the projected depth chart for the Pacers:
| | | | | |
| --- | --- | --- | --- | --- |
| PG | SG | SF | PF | C |
| George Hill | Monta Ellis | C.J. Miles | Paul George | Myles Turner |
| Rodney Stuckey | Joseph Young | Solomon Hill | Lavoy Allen | Jordan Hill |
| | | Damjan Rudez | | Ian Mahinmi |
Based off of that projected depth chart Indiana would have to sign three more players to complete their third unit. Shayne Whittington is a very likely option for the third string power forward position, but it is currently unknown at this point for the remaining two backcourt positions. Since the Pacers want to play faster, the starting lineup appears able to do so. Indiana still has the option of trading for a starting quality power forward and moving Paul George to small forward, but the team believes that George can be a miss-match disaster for opposing teams at the power forward position. The Pacers' cap space situation is currently unknown since Jordan Hill's contract terms are unknown, but they likely have enough to comfortably address their needs. The free agent market is dry for starting power forwards that would fit the Pacers system, so trading for one seems to be the best option if they choose to go that route.
Ian Mahinmi appears to be the most likely player to be traded if the Pacers were to make a trade. He has a $4 million deal that is expiring, which could be valuable to teams looking to increase their cap space for the next off-season. Indiana likely won't have a use for Mahinmi in their rotation, he has an expiring deal, and is still one of the better defending centers in the league. That means he's expendable and there should be no shortage of teams interested for his services. A trade wouldn't have to happen since Indiana has a comfortable amount of cap space to address the rest of their needs, and they theoretically have all the fitting pieces for their system. However, don't be surprised if Mahinmi is traded by default. He may request a trade if he doesn't win the second unit position battle.
Another move the Pacers could make is acquiring a guard for the second unit to compliment Rodney Stuckey. This would be the case if Indiana wasn't comfortable with Joseph Young being in the second unit. Indiana wants to go '10-deep' in their rotation during the regular season so this is a legitimate possibility. But based off of how well Joseph Young has performed so far at the Orlando Summer League, it may not be necessary. Don't expect the Pacers to put too much opinion into the Summer League though, considering the fact that the talent isn't necessarily NBA quality.
It may sound desperate to play Paul George at power forward, start Myles Turner at center, and give Joseph Young minutes off the bench, but these aren't bad options at all. All of these things are great options when you think about it beyond the surface. With that being said, don't be surprised if the Pacers are done making significant moves since they theoretically have all of the players necessarily for their fast paced depth chart for both the first and second units. Just because the Pacers may have a good amount of left over cap space doesn't mean they should or would want to spend it, especially if they already have a lot of high quality pieces to go '10-deep' in their new system.
Roy Hibbert and David West were the players that made all of these moves possible by departing Indiana, whether voluntarily or not. It was crucial for the Pacers to depart with these 'ill-fitting' players, since they not only didn't fit the system but they accounted for nearly 50-percent of the Pacers' salary cap. Indiana also had to let other players like C.J. Watson, Donald Sloan, Luis Scola, and others previously key bench players go. But that was necessary for the transformation of the team's new identity. This team may look a lot different from years past but it likely won't be taking a step back. In fact, this team could be even better than before.
Note: Check back with Vavel-USA for an article in the near future about how the Pacers can translate their new off-season additions to their new system.