 The Atlanta Hawks knew there were going to be some major decisions made this offseason regarding the future of the roster, and those decisions started with the departure of Jeff Teague on Wednesday. In exchange, they were able to secure a lottery pick and select Baylor senior forward Taurean Prince. The 21-year-old stands at 6'8" and averaged a career high 16.0 points per game this past season to go along with 6.0 boards and just over 2 assists. In addition to what he brings to the stat sheet, Prince provides constant energy and effort on both ends of the floor and should be able to produce from day one.
Strengths
-Physical tools
-Defensive effort
-Shooting stroke
First and foremost, Prince brings an NBA-ready body to the table along with good quickness and athleticism to compete at the next level. He backs up his tools with a winning mentality and exceptional basketball IQ on the defensive end. His versatility should allow him to guard multiple positions with ease.
The experienced forward is also no slouch when it comes to providing offense. He can finish at the rim thanks to his physicality and athleticism and is also an above-average spot up shooter. He shot a solid 36% from three in his senior season, which was actually down a bit from his 39.9% shooting junior year. Additionally, he crashes the boards on both ends and hustles whenever he is on the floor.
Weaknesses
-Ball handling
-Decision-making on offense
-Shooting consistency
Despite his shooting and finishing abilities, Prince is not the most fluid ball handler and thus struggles to create his own shot at times. This should be mitigated on a team that stresses ball movement, however. He also has the tendency to force some shots and turn the ball over despite improving on his passing over his college career. His shooting percentages, besides free throws, also dipped some his senior year, and he can become more consistent in that area.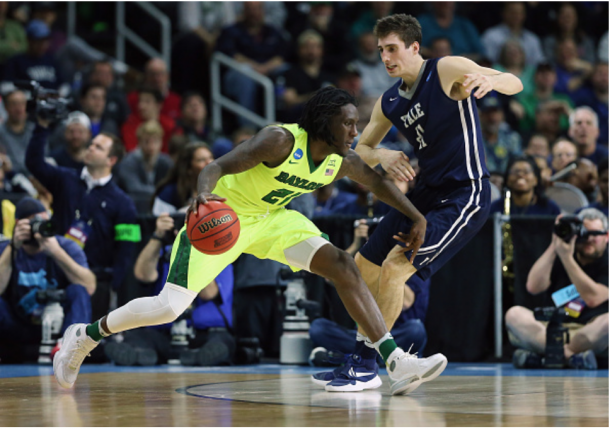 How does he fit in Atlanta?
Overall, Taurean Prince is a guy the Hawks have liked for a while and someone who makes sense based on the system the team runs. He should have a role right away as a "3 and D" guy and bring a lot of the same toughness DeMarre Carroll did prior to departing in free agency last offseason. While this may seem like a bit of a reach, Prince likely would have been off the board before the Hawks picked again at #21, and the organization wanted to take no chances.