 DeAndre Bembry's life was turned upside down just days before he would live out his dream of making the NBA. Tragically, his brother and best friend was killed just two weeks ago, leaving Bembry in a state of mourning in what should have been a time of celebration. Now, the 21-year-old forward will take that legacy to the court and play his career in memory of his brother, "put[ting] more effort out there just for him."
Strengths
-Physical tools
-Offensive versatility
-Great distributor
Bembry has an impressive frame for a player who can play the guard position in addition to the forward. He stands at 6'6" with over a 6'9" wingspan and possesses a nice combination of strength and athleticism. Offensively, he can push the ball in transition and finish at the rim or distribute to teammates. In the half-court, he can do a little bit of everything and is an elite cutter to the rim.
The former Saint Joseph's standout has above-average passing ability for a wing, averaging almost 5.0 assists per 40-minutes in his senior season. Like the Hawks' pick at number 12 in Taurean Prince, Bembry is able to guard multiple positions, a skill that is valued highly in the modern game.
Weaknesses
-Outside shooting
-Consistent effort
The area that needs the most improvement for Bembry is definitely his outside shot. He has found some success shooting the 3 in his college career, hitting 122 total, but at only a 31% clip. He also saw his numbers regress over the four years, bottoming out at 27% last season. His shot is not completely broken, but he must work on his footwork and having consistent shooting mechanics every time.
Bembry also had some lapses in effort in college, especially on the defensive end. He can do a better job of bringing the energy he showed flashes of each and every play on both ends. This should improve as he works with NBA coaches and tries to crack the rotation for a contending team.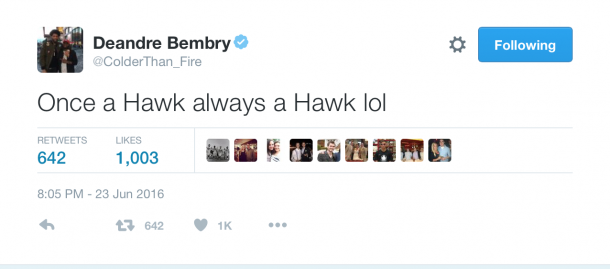 Once a Hawk, always a Hawk
This is another guy the Atlanta Hawks were very high on entering the draft, and it is no surprise that he was the selection at #21. With Kent Bazemore possibly leaving in free agency and Thabo Sefolosha/Kyle Korver getting up there in age, it was smart for Atlanta to double down on two versatile wings who can pass and defend- essential traits to know for playing under Coach Mike Budenholzer. Bembry projects to be the "swiss army knife" type of player that every team should want to have.