 While the first round of the 2016 NBA Draft saw a record number of international players selected, Isaia Cordinier may be one of the most intriguing selected in the second round. At just 19 years of age, the guard played in the Pro B division in France. While this is only the second most competitive league in the country, Cordinier saw more playing time and development than if he played in Pro A. Now that he has been drafted, he will likely move up and test his skills at a higher level before attempting to play in the NBA.
Strengths
-Athleticism
-Offensive skills
-Motor
First and foremost, the 6'5" Cordinier is a superb athlete who can run in transition and glide to the rim with ease. His spot up shooting is also above-average, and he gets good rotation on his stroke. While he isn't the best ball-handler, he has shown potential as a slasher and also distributes the ball quite well.
Lastly, the young prospect is a competitor who doesn't seem to shy away from contact or pressure. He has a tremendous work ethic that should allow him to step up and play against more established competition in the coming years.
Weaknesses
-Weight
-Streaky shooter
-Decision making/maturity
Cordinier is pretty thin overall, weighing in at just 177 pounds. His frame is narrow, so there may not be much room to fill out, but an NBA training regimen could change that. On the catch-and-shoot, he shoots with a lot of arc and can struggle at times to hit it with consistency.
As could be seen at the 2016 Nike Hoop Summit, Cordinier still needs to mature and work on limiting turnovers and poor decisions. He tended to try to do too much on the offensive end and bite on fakes on the defensive end. He still needs to prove that he can play at a higher level of basketball than Pro B.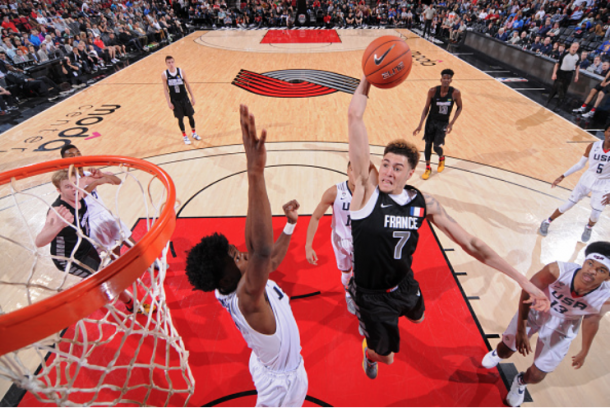 His future in Atlanta
Cordinier will most likely be stashed back in France for at least a season or two as Atlanta assesses their options at the position. He could find himself playing in the Summer League as early as this year, however, giving fans an opportunity to see the 19-year-old for perhaps the first time. This pick makes sense for the Hawks seeing as three incoming college rookies would have been difficult to deal with in addition to the free agent signings the franchise plans on making. This could be one that works out in the future in a major way.