After a rough start to the series in Washington, the Atlanta Hawks were staring at a possible sweep if they didn't make quick adjustments. A must-win Game 3 paved the way for another pivotal battle in Game 4, which the Hawks were able to grind out in front of a raucous Philips Arena crowd.
While the Hawks aren't known for their home court advantage, they did an excellent job of channeling their energy and out-hustling the Wizards throughout the night. Since Markieff Morris' "double MMA" and "crybaby" comments directed toward Paul Millsap, he has struggled to stay out of foul trouble while Millsap has been huge for the Hawks.
The Hawks now need to focus on grabbing a win on the road, or else their season will come to an end and an offseason full of questions will arrive. The momentum is certainly on their side, but the backcourt of John Wall and Bradley Beal has the potential to carry the Wizards if everything is clicking. It should continue to be an intriguing series full of physical play and unexpected heroes, as was seen tonight.
Age is just a Number
If the Hawks were to win this game, it was extremely unlikely that they would be able to do it with backup point guard Jose Calderon playing in key stretches for 20 total minutes. However, the 35-year-old veteran provided an astounding plus/minus of +29 to go along with 10 points and five assists. He also tipped in an offensive rebound late in the game that capped a major Hawks run and put things out of reach for the Wizards.
Starting point guard Dennis Schroder picked up three early fouls, which prompted Calderon to play significantly more minutes than usual. Despite that, Schroder was still very key down the stretch, knocking down two three-pointers and finishing with 18 points. It wasn't his best performance in the assists category, but he took care of the ball in clutch time and controlled the offense effectively.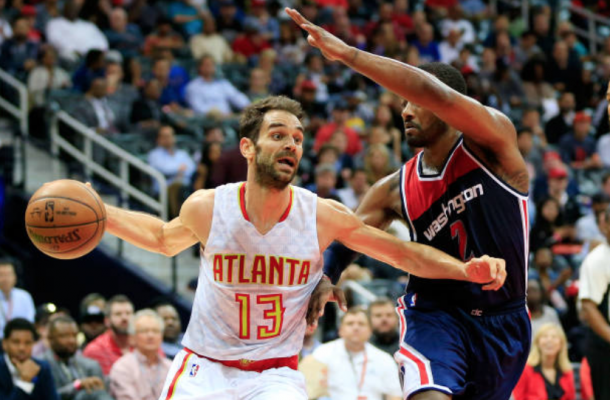 An All-Star Fourth Quarter
Paul Millsap was also relatively quiet in the first half, but that didn't last very long. He ended with 19 points, nine rebounds, and seven assists while helping force Wizards bigs Markieff Morris and Marcin Gortat to commit five fouls apiece. His highlight play of the night involved a putback and-one conversion while falling away from the basket toward the floor. The Louisiana Tech product has perfected shots with a high degree of difficulty, and it is one of the reasons why he is one of the NBA's best.
Meanwhile, former starter Kent Bazemore got it done off the bench for Atlanta. He has failed to live up to expectations since signing a big contract in the offseason, but tonight he showed the energy that Hawks fans came to love last year. He dropped 16 points while assisting seven buckets and nabbing three steals as well.
A Balanced Effort
Dwight Howard, Taurean Prince, and Tim Hardaway Jr. all contributed positively to the cause as well. Howard looked like his old self at times, throwing down monster alley-oop jams and owning the boards. He finished with a double-double of 16 points and 15 rebounds. Prince and Hardaway Jr. also scored in double figures, showing that the Hawks are at their best when everyone is chipping in.
Beal's Shooting not Enough
Bradley Beal was able to shoot his fair share of threes in this one, and he made five of them on his way to 32 points. A major reason why the Wizards lost Game 3 was because of his struggles, so it was encouraging for coach Scott Brooks' squad to get him going.
After an efficient start to the night, John Wall sputtered a bit down the stretch and missed some potential momentum-swinging shots. He still dropped 22 points and ten dimes, but he will need to be even better for the Wizards to close out the series.
The frontcourt of Morris and Gortat dealt with foul trouble throughout the game, and it clearly affected their rhythm. Morris has also looked out of sync since his red-hot game one performance, and he has increasingly been called for fouls since his rash comments to the media. He shot just 3-of-10 in this one with nine points.
Gortat made just one basket, but he was able to pull down 18 boards against his former teammate Howard. The Wizards also got very little production out of their bench, with Bojan Bogdanovic providing the only real scoring threat. He had 13 points on 5-of-9 shooting, a solid turnaround after a cold start to the series.
Next Up
Game 5 in Washington will be played on Wednesday night, where the Wizards will look to get back on track at the Verizon Center. Another Atlanta win would put Washington on the ropes and threaten to send the series back in front of an exciting Hawks crowd.