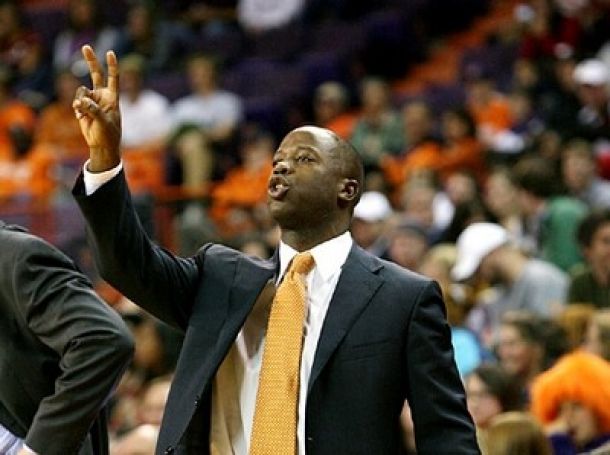 After a month-long search to replace ousted basketball coach Doug Wojcik, The College of Charleston has hired a new basketball coach, tabbing Earl Grant from nearby Clemson. School president Glenn McConnell made the announcement on Tuesday night.
"I believe the College of Charleston has a boundless opportunity with Coach Earl Grant, and I am confident he will help launch a new beginning full of excellence, teamwork and success," McConnell said. "Earl inherits a team that has bonded together during the past months and has shown character, fortitude and leadership. I am very proud of how this team has stood up to adversity."
Indeed, Grant's hiring brings to an end, at least momentarily, a tumultuous period in which Wojcik was first accused in June of verbally berating and abusing his players. Wojcik was then released from his position in early August by McConnell, who took over as president at Charleston in July. Wojcik and his attorney have been contemplating legal action against the school for wrongful dismissal on grounds of fabricated evidence.
However, whatever may happen in the courtroom, what will now take place on the basketball court seems to be on course for normalcy.
The 37-year-old Grant, a native of Charleston, arrives at C of C after stints as an assistant at Wichita State, Winthrop, and The Citadel before spending five years with Clemson. With the a Tigers, he was credited with being a superb recruiter.
McConnell chose Grant after losing out on Virginia assistant Ritchie McKay, Wofford head coach Mike Young, and former Charleston player Anthony Johnson, all of whom dropped out of the race. North Carolina State assistant Bobby Lutz and Connecticut's Karl Hobbs were also given consideration before the hometown Grant was made the choice.
"[Earl's] positive attitude, strong work ethic and vivacious personality will have a lasting impact on our players, students, alumni and the entire college community," McConnell said. "I am positive that his vast energy and desire for excellence will propel the College of Charleston basketball program to new heights."