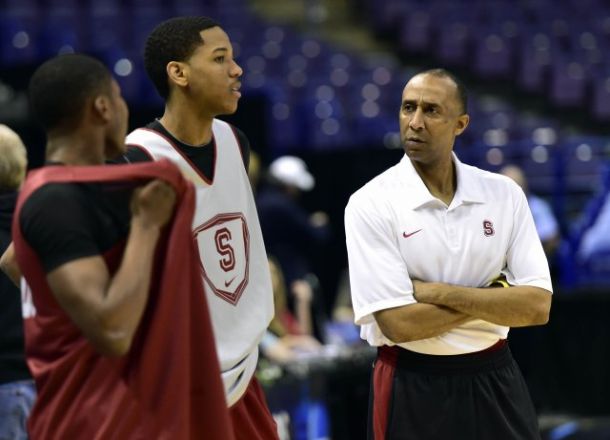 After enduring what many critics thought were his last days as Stanford basketball coach, Johnny Dawkins has signed an extension to be the long-term coach of the Cardinal. Terms and length of the contract were not disclosed as the school made the extension public on Wednesday.
Dawkins led the Cardinal to the Sweet 16 in last season's NCAA Tournament. As a 10 seed, Stanford was able to knock of 2 seed Kansas on its way to its deepest tournament run since Dawkins took over six seasons ago.
"I want to thank athletic director Bernard Muir and the Stanford community for outstanding support and allowing our staff to do what we love," Dawkins said in a statement. "Being part of the Stanford family is special and there is no place I'd rather be. We are committed to enhancing Stanford's reputation of excellence in the classroom and on the court."
Stanford made the NIT in 2013 before receiving an at-large bid to the NCAA Tournament last season. It was the first time Dawkins led the Cardinal to the Big Dance, which had many critics calling for his removal.
However, school administration saw things differently.
"Johnny Dawkins is a phenomenal educator and tireless worker," said athletic director Bernard Muir. "Our on-court success last year combined with ongoing academic accomplishments and the overall development of our student-athletes illustrates Johnny's ability to lead this program into the future."
In six years, Dawkins has compiled a 117-87 overall record at Stanford, but has hovered under .500 (49-59) in Pac-12 play.
The Cardinal return their leading scorer from last season, Chasson Randle, and add in three 4-star recruits in their freshman class.