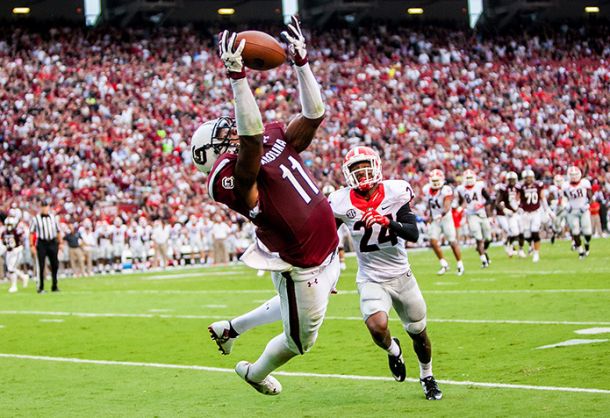 The Gamecocks visit Jordan-Hare Stadium on Saturday to face off against the No. 5 nationally ranked Auburn Tigers. South Carolina is needing this huge win to even think about staying in contention for the SEC East.
The Auburn Tigers (5-1, 2-1 SEC) are picked to win by more than two touchdowns against South Carolina (4-3, 2-3 SEC) as the Gamecocks come for a visit this Saturday.
The Gamecocks last win against Auburn was in 1933 and have not beaten them since. Their last meeting in 2011 was a close one but the Gamecocks fell short, losing 16-13. Auburn leads the series all-time with 9 wins and 1 loss.
"We have to bring our "A" game and see if we can get a break or two and see what happens at Auburn," Spurrier said.
The defensive struggles are still a continuing issue for South Carolina.
Defensive coordinator Lorenzo Ward tried to simplify his group's schemes and moved to the press box from the sidelines to try and get better looks at what his opponents are doing. The move seemed to work against an obvious lesser opponent although they still seemed to continue to struggle against the run.
Coach Ward knows his defense will be challenged to slow down the deadly Auburn running game.
"You have to be really sound on what you do on defense because they give you a lot of different formations, a lot of different shifting movement," said Ward. "You have to make sure you fit where you're supposed to fit based on the defense that's called to even have a chance. Then you still have to be physical.
"Hopefully we can go and play the way we did against Georgia," Ward said. "If we play with that level of emotion and that level of enthusiasm, we'll have a chance. Hopefully we can get turnovers. We're going to have to get turnovers if we're going to win this ballgame."
Coach Spurrier chimed in about the Auburn run game too.
"I think what they've done is run the ball extremely well against everybody, just about everybody they've played," Spurrier said.
Auburn is coming off a bye week looking to come out strong after falling short to the now No.1 ranked Mississippi State Bulldogs in a mistake-filled game for both teams. Auburn almost certainly needs a 6-0 finish to have a legitimate shot at making the College Football Playoff.
"Any time you lose your last game, you can't wait to get on the field and get out there," Malzahn said. "The thing about our team is I feel pretty comfortable with how they're going to respond, because we have a lot of veteran guys that have been through a lot of different experiences."
Auburn is averaging 268 rushing yards per game behind quarterback Nick Marshall and tailback Cameron Artis-Payne, but Malzahn feels the Tigers can still be more effective on the ground. That includes trying to turn the zone read back into the nearly unstoppable force it became last season after a road loss to LSU.
This game will be shown on the SEC Network at 7:30 P.M. EST.