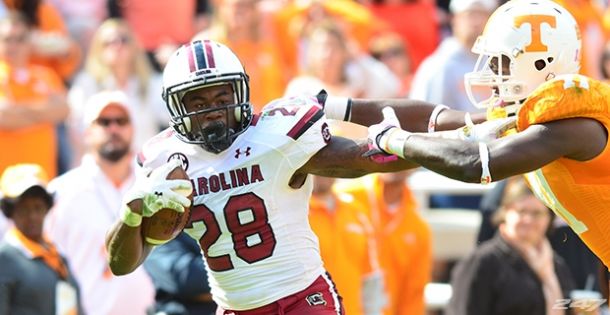 The Gamecocks stay at home this weekend as they are getting ready to play their last home game against the Tennessee Volunteers.
The Gamecocks are averaging 35.1 points and 561.4 yards per game led by QB Dylan Thompson who has completed 60.8 percent of his passes with 20 touchdowns and 9 interceptions.
Mike Davis is one of the best three-down backs in the country. He's turned 142 carries into 750 yards and eight touchdowns to go with some solid receiving totals as well with 21 receptions for 223 yards and 1 touchdown. Pharoh Cooper, who has been the stand out secret weapon for South Carolina, leads the receivers with 40 receptions and 6 touchdowns and Nick Jones has 31 receptions.
The struggling South Carolina defense is allowing 32.8 points and 437.5 yards per game as they seem to not be able to get any pressure on opposing QB's as they have just eight sacks on the season. Skai Moore leads the team with has 51 tackles, and has been ruled out for the game due to injury. T.J. Gurley is the next best thing with 48 tackles, and Gerald Dixon has 31 tackles.
The Volunteers seem to have an offense that just can't seem to keep things rolling offensively. With a strong finish the Vols still have a chance to make a bowl game. Tennessee has just look over matched against SEC competition and they might not have the personnel on the roster to get it done right now.
The Tennessee offense is averaging 23.9 points and 332.4 yards per game as they looked improved last game when QB Justin Worley went down with an injury and back-up Joshua Dobbs stepped in at QB. Dobbs completed 19 of 32 passes with two touchdowns and ran for 75 yards. Jalen Hurd leads the Vols ground game averaging 4.2 yards per carry and Marquez North and Alton Howard each have 30 receptions to lead the Tennessee receivers.
The Volunteer defense allows 22.9 points and 343.8 yards per game with 19 sacks and 16 forced turnovers. A.J. Johnson is Tennessee's best defender with 86 tackles, Jalen Reeves-Maybin has 63 tackles, and Derek Bennett and Curt Maggitt each have four sacks. Tennessee has shown some signs of improvement but it has been a very difficult season.
South Carolina is looking to earn its fifth win of the season and move to within one victory of bowl eligibility and snap the team's three-game SEC losing streak. they are also breaking out a black uniform this weekend in which they are 0-5 when they wore either black jerseys or black pants. The Gamecocks are wearing both.
This game will be televised on Saturday on the SEC Network at 7:30 p.m.