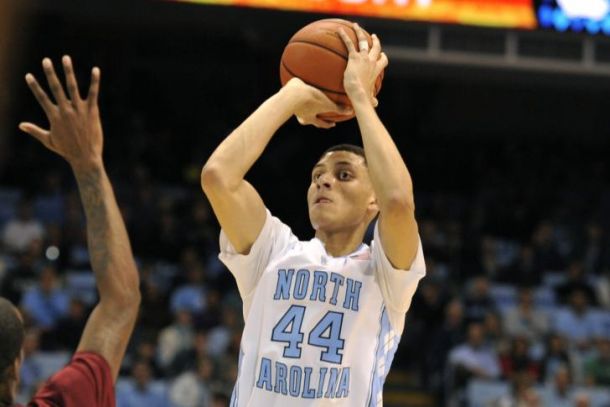 With the massive media storm surrounding North Carolina and its alleged academic misgivings, the Tar Heels could not wait to get on the floor. On Friday night in Chapel Hill, the UNC basketball team was able to just that and ended up defeating the visiting North Carolina Central Eagles 76-60 to get its season off on the right track.
The 6th ranked Tar Heels managed only 28 points in the first half but held the Eagles to just 19. Both teams found offensive rhythm in the second half that saw UNC put up 48 points to NCCU's 41. North Carolina was led in scoring by Brice Johnson with 12 points. J.P Tokoto and Kennedy Meeks each added 10.
All-American candidate Marcus Paige was the focus of the Eagles' defense all night and managed only 8 points on 2-8 shooting. As a team, the Heels shot 44% from the field including only 2 of 11 from behind the arc.
UNC's defense limited NCCU to just 32% shooting. The Eagles, who qualified for the NCAA tournament last season, provided a stout challenge to the Tar Heels.
"I like the fact that you play a pretty doggone good team and you have some struggles," North Carolina coach Roy Williams said. "Everybody's got to look at themselves and the things we made mistakes (on), they've got to learn from it and try to change it."
The struggles Williams referred to were largely on the offensive end, where the Heels faced a box-and-one zone that attempted to neutralize the paint and deny the basketball to Paige.
"I think we could've got Marcus open a lot more," said Meeks. "There were more opportunities for us to set those easy screens just so he could get an open shot and get in a rhythm."
However, North Carolina proved it was more than just a one-man show with the performances of Johnson, Tokoto, and Meeks. Highly touted freshmen Justin Jackson and Theo Pinson scored 9 and 4 points respectively for the Tar Heels.
North Carolina will host the Robert Morris Colonials on Sunday. NCCU will welcome the College of Faith to its home court on Tuesday.