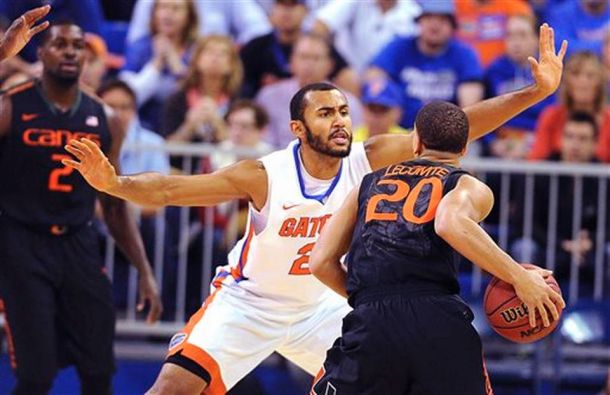 The Miami Hurricanes opened the 2014 Tip-Off Marathon with a dramatic come-from-behind 69-67 victory over the host Florida Gators in Gainesville on Monday night.
Angel Rodriguez poured in 24 points, including the go-ahead deep range three point shot with under 20 seconds remaining, as the Hurricanes overcame a 15-point second half deficit to notch the victory over the 8th ranked team in the country. Rodriguez made his shot against heavy pressure from the Gators' Eli Carter, but the shot fell through as Rodriguez hit the floor then pounded his chest twice to celebrate.
Carter then penetrated the Miami defense on the ensuing possession, but the point guard was called for an offensive foul. After Rodriguez made one of two costless throws, Florida's last second jumper bounced off the iron, giving the in-state rival Hurricanes the win.
Florida held a 12-point halftime lead, and was leading by 15 with under ten minutes to play when Miami mounted its rally.
The Gators were without the services of four players, including starting forward Dorian Finney-Smith who sat out with a hand injury sustained in the team's opener on Friday. Florida was also without Chris Walker (2-game suspension), Alex Murphy (transfer rules), and Dillon Graham (quit the team and plans to transfer elsewhere).
Florida coach Billy Donovan has been less than impressed with his team's defensive performance throughout practice. The Canes shot 50% from the field including 70% in a second half that saw them put up 48 points on the road.