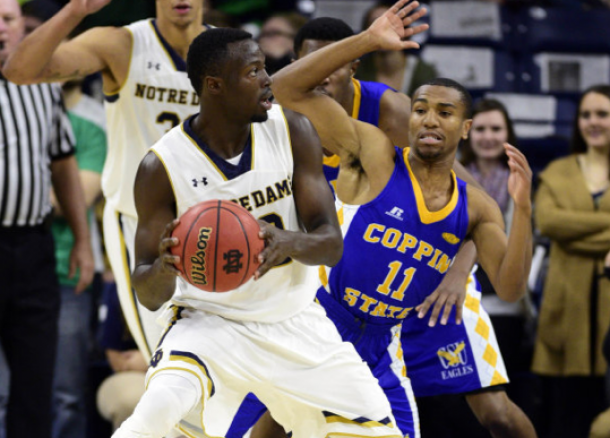 The Notre Dame men's team is still undefeated after defeating Coppin State, 104-67. This meeting was the first ever matchup between the two schools.
Notre Dame proved to be to hard to handle for Coppin St. Jerian Grant also had an nice night for the Irish. The Fighting Irish were led by Zach Auguste who poured in 21 points and was a huge factor for Notre Dame in this game.
Steve Vasturia helped led the Irish on an incredible run to start the game. Coppin St didn't have a chance in the first minutes as it was all Irish on an 19-2 run. Vasturia added a couple of threes in that span. After ten minutes in the game, the Irish led 33 to 14. Demetrious Jackson propelled Notre Dame to a 49-16 lead with about four minutes remaining in the first half. By halftime it was already 53-23 in favor of the Irish.
Through the next 11 minutes Notre Dame went on another impressive run, this time racking up 16 straight points. V.J. Beachem came off the bench for the Irish and scored 19 points. He was some of the reason for the Irish run at the half. The bench was responsible for 41 points tonight including freshman Martinas Geben, who scored 12 points in about 20 minutes.
Coppin State, which is winless on the season, got 14 from Arnold Fripp in its third straight game in which the Eagles have surrendered more than 100 points to their opponent.