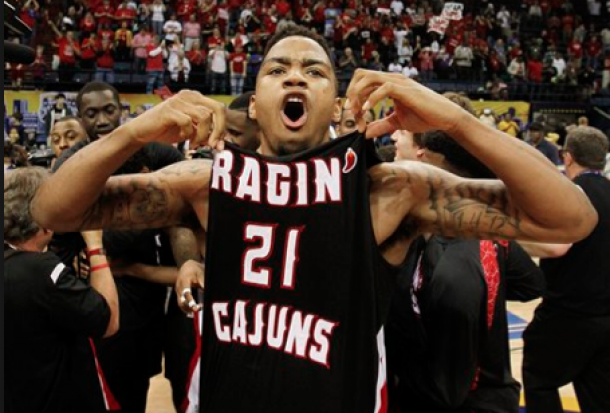 In a draft that will most likely include big men such as Jahlil Okafor, Karl Anthony-Towns, Myles Turner, Montrezl Harrell, Cliff Alexander, and Frank Kaminsky, the biggest steal could very well come in the 2nd round when a team selects Louisiana Lafayette power forward Shawn Long.
Shawn Long is the type of player who most definitely has the skill, he just doesn't have the hype. He wasn't a top rated recruit and he wasn't a McDonald's All-American. What he was, was an unranked kid out of Morgan City, Louisiana who originally committed to play basketball at Mississippi State.
As thinks would turn out, Long would never hit the hardwood in Starkville. After redshirting and sitting out his freshman year, Long would transfer to Louisiana Lafayette and become a Ragin Cajun.
It did not take long (no pun intended) for Shawn to make his impact on his new team. As a true freshman, Long would average 15.5 points per game as well as 10.2 rebounds per game. As if those numbers weren't good enough, Long would also average 1.9 blocks per game as a freshman.
In his sophomore year, would see his scoring average go up to 18.5 points per game, and see his rebounding stay about the same at 10.3 a game. Another average Long would see go up as a sophomore, would be blocks. His average would reach 2.6 per game.
There are a number of things that would make Long a steal. First one being his size. Louisiana Lafayette had long listed at 6'9" 245lbs on their official website. This summer, Long attended the Bigs Skills Academy, which is comprised of the top college and high school big men. The camp counselors where none other than NBA star big men Demarcus Cousins and Anthony Davis. It was at this camp that Long measured at 6'10" (with shoes) and weighed in at 256lbs with a 7'0" wingspan.
Next on the list of intangibles is his versatility. Most 6'10" 260 power forwards are back to the basket post players. While Long does have the size to mix it up down on the low block, he can also stretch the floor. Long shot 31% from long range (pun intended) as a freshman and 42% as a sophomore.
If and when Long decides to go to work in the post, he is also very effective there as well. Between his footwork, size, length, touch, and just flat out ability to score in a variety of ways down on the low block, Long is a very tough matchup. In addition to the above mentioned abilities, Long is also very quick and crafty for a man his size allowing him to still be a threat against defenders who match up with him size wise.
This year Long has been battling an ankle injury that has caused him to miss some time. In the three games he played, his averages where 9.6 points per game and 4 rebounds per game. Obviously those numbers don't match up with the double-double he averaged his first two years at ULL.
Tim Buckley, a sports beat reporter for ULL, was asked what the timetable was on Shawn Long's return to the court and he replied with a Tweet that stated, "UL's Bob Marlin (Head Coach) : We'll see how Shawn Long looks in practice today (Tuesday, December 2) before deciding status for game Wednesday vs. Jackson State."
When Long does return to the court and is 100% healthy, there should be no reason he does not get back to what he has done for two straight seasons. After all he want's to follow in the footsteps of former teammate Elfrid Payton, current Orlando Magic point guard.
So when the draft rolls around (assuming he forgoes his senior year) and you hear Shawn Long's name, you don't have to wonder who he is. He's a 6'10" 256 pound Ragin Cajun.