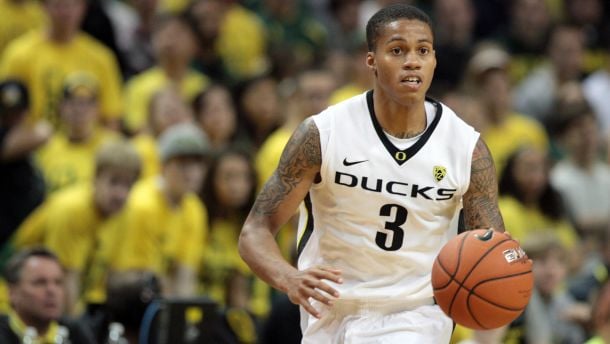 The year of 2014 has come to a close, and 2015 is now upon us all! If the first half of the 2014-15 season was any indication, the conference portion of schedules in 2015 will be just as crazy, if not crazier, than the basketball that has already taken place.
With a slow weekend between Christmas and New Year's, the weekly edition of Sleeper Saturday took a week off. However, it is back in full force with four great, exciting, under-the-radar games for basketball fans everywhere. With a full slate of 118 games on the first Saturday of 2015, it would be tough to pick through all of the games to find ones worth looking. Below are four games that should provide fans with ample amounts of excitement. While some of the teams may not be the most glamorous (see Nicholls State v. Lamar), the teams have talented pieces in place and the games should be closely contested affairs.
2:00pm EST: Bucknell Bison (6 - 8) @ Colgate Raiders (4 - 10)
The Bucknell Bison and the Colgate Raiders have had flashes of brilliance this season, but haven't performed up to expectations through the early part of the year. Both teams opened Patriot League play with a win, and should provide fans with a great match-up on Saturday afternoon.
The Bison enter Saturday as winners of three of their last five games. Their two losses came by a combined 9 points, as they lost on the road at Wake Forest by 7 and at Siena by 2. They are coming off a win over the American Eagles in their conference opener, 57 - 47, and have been playing some great basketball over the past couple of weeks. Junior guard Chris Hass is the only player averaging over 8.0 points per contest for the Bison this season, as he leads the way for the team with an average of 16.9 points per contest. If the Bison can get secondary scoring from the likes of J.C. Show and Nana Foulland, they have a great chance of scoring a big conference road win.
The Raiders, however, won't make things easy for the Bison. Despite their 4 - 10 record, Colgate has played some great basketball this season. They've just been a bit unlucky and have found themselves on the wrong side of some close games. Eight of their tem losses this season have been by single digits, so they've been competitive in the vasy majority of their games. They opened Patriot League play with a nice road win over the Lehigh Mountain Hawks, 68 - 61, ending a three-game losing streak for the Raiders. The guard duo of senior Damon Sherman-Newsome (13.9 ppg) and junior Austin Tillotson (12.1 ppg) lead the way for the Raiders on offense, and a balanced scoring attack for Colgate should give them a leg up on Saturday.
Both teams have big time talents on their roster, so this should be a good tilt to kick off a Saturday filled with great basketball action.
4:00pm EST: Hampton Pirates (6 - 7) @ USC Upstate Spartans (10 - 4)
Purposely planned, the second game featured in Sleeper Saturday begins right after the first one ends, and the games keep getting better and better. The Hampton Pirates and the USC Upstate Spartans are both emerging power programs in their respective conferences, and will look to claim one last non-conference win before they get fully engaged in conference play.
The Hampton Pirates have quietly emerged as a bit of a power program in the MEAC over the past couple of seasons. Last season, the Pirates went an impressive 13 - 3 in conference play, and took part in the 2014 College Basketball Invitational. Despite their 6 - 7 record so far this season, the Pirates already have two conference wins under their belts, and they look to continue what they started last season in terms of feasting on the competition in the MEAC. The Pirates have won 5 of their last 7 games, but enter Saturday on the heels of a tough road loss to Northern Illinois, 83 - 51. The duo of Dwight Meikle (12.6 ppg, 6.8 rpg) and Tennessee-transfer Quinton Chievous (11.7 ppg, 7.6 rpg) will keep the Pirates near the top of the MEAC this season, and give them a great shot to notch another impressive road win against the Spartans.
The USC Upstate Spartans have emerged as a favourite in the weaker-than-usual Atlantic Sun conference this season. With Mercer gone to the Southern Conference, the Atlantic Sun race is more wide open this season. Florida Gulf Coast hasn't played well as of late, losing three straight, so the conference is there for the taking and the Spartans look like the prime candidate to do so. They have two wins over power conference teams this season, a road win over Georgia Tech and a win over Mississippi State on a neutral floor. Their four losses have all been by 10 points or less, so the Spartans are for real and worthy of their 10 - 4 record. Senior guard Ty Greene has quickly, yet quietly, emerged as a candidate for Atlantic Sun Player of the Year. He's averaged a team-high 16.5 points per contest this season for the Spartans on 44.4% shooting from the floor. Add in the play of Michael Buchanan (9.7 ppg, 4.9 rpg, 1.1 bpg) and it's easy to see why the Spartans have been so good this season.
Two games down, two games to go on a Saturday filled with great basketball. There's a 1 hour break following this game before the next great game kicks off!
7:00pm EST: Nicholls State Colonels (3 - 7) @ Lamar Cardinals (6 - 6)
This game may be the one that may make people scratch their heads and wonder why it made the list. The Nicholls State Colonels and the Lamar Cardinals do not usually catch the eye of casual basketball fans, or hardcore fans for that matter. If the game is a blowout, it's a blowout. If it's a dud, it's a dud. However, there's one player in particular in this game that fans absolutely need to check out.
The Lamar Cardinals have a star on their roster, and he goes by the name of Tyran de Lattibeaudiere. The 6'4'' senior forward out of Kingston, Jamaica has been a pleasant surprise for the Cardinals this season. It's a shame that this will be his one and only season at the NCAA level, because he is a talented player on a team that does not get much attention outside of Beaumont, TX. Tyran leads the Cardinals in scoring and rebounding this season, averaging 15.7 points and 8.0 rebounds per contest to go along with 1.8 assists, 1.8 steals, and 1.6 blocks per contest.
Mr. de Lattibeaudiere has been a machine for Lamar this season. Here are just a few of his stat lines from games this season:
@ Indiana: 39 mins, 18 points, 8 rebounds, 2 assists, 2 steals, 1 block; 66.7% shooting
@ Texas Southern: 34 mins, 16 points, 5 rebounds, 3 assists, 1 steal, 3 blocks; 77.8% shooting
v. Champ. Baptist: 24 mins, 30 points, 7 rebounds, 3 steals, 2 blocks; 83.3% shooting (15-of-18)
Tyran has three double-doubles on his resume this season, and more are sure to be on the horizon. If fans are skeptical to check out this game, tune in to see de Lattibeaudiere play, even if it's just for a few minutes. Nicholls State doesn't have a win against a Division I opponent on their resume this season, so Lamar should walk away with the win.
8:00pm EST: Oregon State Beavers @ Oregon Ducks
This game is not likely to fly under the radar of many fans out there, as Oregon State v. Oregon always seems to catch the attention of fans due to the rivalry between the two programs. The rivalry is bigger on the football field, but don't tell that to the players in this game. Bragging rights are on the line, and both teams would love to have a leg up on their interstate rival.
Gary Payton II has helped lead the Beavers to a 9 - 3 record to open the 2014-15 season. Payton II leads the team in scoring and rebounding, averaging 12.5 points and 8.7 rebounds per game to go along with 3.0 assists, 1.1 blocks and 3.1 steals per contest. His statistics are similar to that of Utah's Delon Wright, as both players can do everything and do everything well for their respective teams. The Beavers have quality wins over Portland, Mississippi State, and UC Santa Barbara, but they have a head-scratching loss to Quinnipiac on their resume. With the exception of the speed bump against Quinnipiac, the Beavers have been a strong team this year and are worth keeping an eye on as we enter Pac-12 play.
The guard battle between Payton II and Oregon's Joseph Young will be worth the time to look all by itself. Young is the Ducks' leading scorer and assist man, averaging 19.6 points and 4.3 assists per game to go along with 5.5 rebounds per contest. In his four year NCAA career, split between Houston and Oregon, Young has increased his scoring production in each season. The battle between Payton and Young will be an exciting one to look. The Ducks have needed overtime in their last two victories, as UC Santa Barbara and UC Irvine took the Ducks to extra time before Oregon pulled out the wins. Despite their recent struggles in regulation, the Ducks have played well this year, much like the Beavers. They have quality wins on their resume (Toledo, Illinois), and a signature head-scratching loss (Ole Miss). Both teams match up well against each other, so this will be an entertaining tilt to cap off a great day of basketball!
-
Sleeper Saturday is back to provide fans everywhere with exciting basketball games to look each and every Saturday. With 118 games slated for January 3rd, there are a plethora of options for fans to look. If there's nothing that peaks your interest, check out one of these four games throughout the day to satisfy the itch for some good basketball!
Enjoy the weekend, and happy looking!