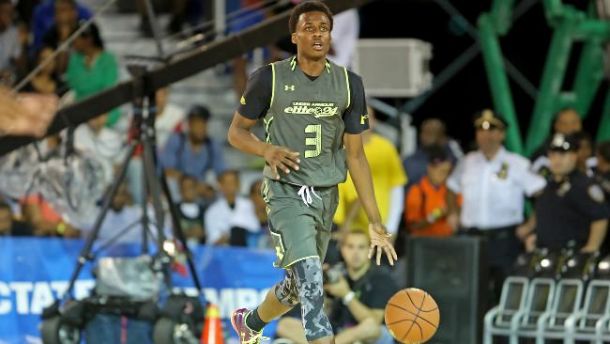 Last September, 5-star basketball recruit Antonio Blakeney announced he would attend Louisville for the 2014-15 season only to back out of his verbal commitment just days later. Now, Blakeney, the #14 ranked player on the ESPN Top 100, has decided to make Baton Rouge his destination and will suit up for the LSU Tigers next season.
Blakeney made his announcement public on ESPNU.
"It was my relationship with the coaches and the plan they have for the program," Blakeney said of his decision. "They've only been there a few years, but it's up and coming. It's a football school, but they're trying to change the culture. I want to be a part of that."
Blakeney will play alongside Ben Simmons, the top player in the class of 2015, and the duo will provide plenty of inside/outside strength for the Tigers, who are looking to make a splash in the SEC as more than a football school.
The pair played together on the AAU circuit for Each 1 Teach 1, and that relationship was pivotal in Blakeney's choice to attend LSU.
"It factored in a lot," Blakeney said of Simmons. "I know how good he is, how good he can make a team. Me and him together can take a lot of stress off each other on the court. We have good chemistry on and off the court."
After Blakeney retracted his verbal commitment from Louisville, there was plenty of speculation that the move had less to do with basketball and more to do with shoe companies. His AAU team is sponsored by Nike. It bears noting that Louisville is sponsored by adidas while LSU is a Nike school.
Regardless of the choice (the Tigers won out over the likes of Oregon, North Carolina, and Kentucky - all Nike schools), Blakeney and Simmons figure to be a sudden impact on both the SEC landscape as well as the national scene. With any number of Kentucky's current batch of players headed to the NBA Draft in June, and with Jahlil Okafor most likely being a one-and-done at Duke, LSU is primed to be a force to win the SEC and challenge for a Final Four berth and a national title.
Such words have not been spoken in Baton Rouge since a certain 7-footer named Shaquille O'Neal roamed the court for the Tigers.
Time will tell, however, if LSU's coup is sustainable as it is likely that Simmons and Blakeney will leave for the NBA sooner than later, especially if their on-court performance lives up to expectations. A national title notwithstanding, neither player will turn down an opportunity to play in the NBA, and each one is predicted to do just that before too long.