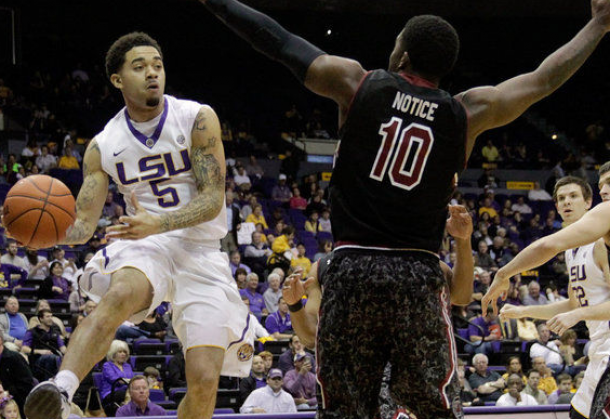 LSU would rely on their clutch defense from the nations leading shot blocker Jordan Mickey, to ensure they survived the upset from South Carolina.
It would be the defense of LSU that would come off big late for the home Tigers. Within the last minute, Keith Hornsby would have a clutch block, and Jordan Mickey would get 3 of his 6 blocks to help close off the game.
Through the course of the entire game LSU would total 13 blocks. 12 of those blocks would come from Jordan Mickey and Jarell Martin alone. Both forwards would send away 6 shots apiece. The 13 blocks is the most blocks LSU has ever had in a game since Johnny Jones has been head coach. It's also the most since a 2008 game in which LSU blocked 14 of Alabama's shots.
Jarell Martin was a big in all aspects of the game. He finished the game with 10 points, 11 rebounds, and his 6 blocks was a personal career high. Jordan Mickey ended the game with 14 points, 6 rebounds, and 6 blocks. Guard Keith Hornsby would finish in double figures for the fourth time in the last five games as he ended with 15 points.
For South Carolina, they would have valiant effort from multiple players. Their biggest performance would come from guard Sindarius Thornwell who finished with 11 points and 9 rebounds.
The Gamecocks would get a good game out of forward Michael Carrera who also finished with a near double-double with 9 points and 10 rebounds.
As a team the Gamecocks actually out-rebounded LSU 40 to 32, which is proof that the gamecocks were battling hard inside against the big frontcourt of the Tigers.
In the end, the above mentioned clutch defense of LSU would be the difference as South Carolina was still very much in the game until the blocks and ensuing free throws sealed the game for LSU.
The Tigers are now 5-2 in SEC play with their 2 conference losses coming to Texas A&M and their conference opener against Missouri. The Tigers will take on Mississippi State on Saturday in Starkville.
As for the Gamecocks, they are now 1-6 in SEC play. They will look to start to turn their season around as they play Georgia on Saturday.