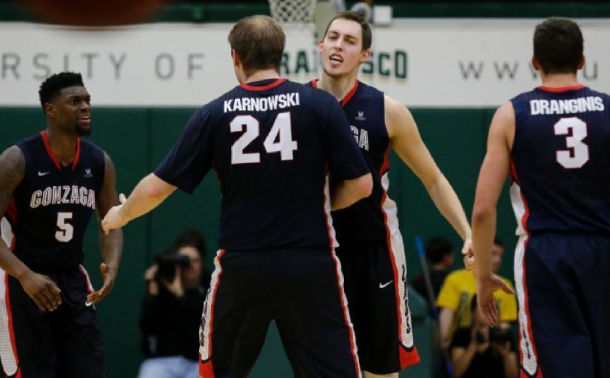 Kyle Wiltjer scored 29 points and the #2 Gonzaga Bulldogs fended off conference foe San Francisco 81-70 to improve its record to 24-1 on Saturday night..
The score was tied at 38 at the half as both teams were locked in a shooting battle. The Dons kept pace with one of the nation's best defensive teams thanks to a trio of three point shots and a big half from Mark Tollefsen who scored 11 points over the first 20 minutes.
San Francisco took its first lead of the night on the first play of the second half on a steal and easy bucket. The Dons would take a 46-44 lead on a three-pointer from Corey Hilliard with a little more than 3 minutes gone in the second frame, but it would be all Gonzaga the rest of the way.
Wiltjer and point guard Kevin Pangos made things go smoothly for the Bulldogs the rest of the way home. Along with his scoring output, Wiltjer grabbed 11 rebounds to control the middle while Pangos added 17 points on 38 minutes of floor time.
It was a subpar outing for two Zags starters, namely 7-1 center Przemek Karnowski and wing player Gary Bell, Jr., who combined to score only 8 points. The Bulldogs benefitted from 30 trips to the free throw line where they converted 23 freebies.
The Dons were led by Tollefsen's 18 points and Kruize Pinkins' 11 off the bench. San Francisco kept their hot shooting stroke most of the night but could not maintain pace with the Zags' down the stretch despite their raucous home crowd and national television broadcast.
The close games against inferior opponents (The Zags trailed to 11-14 Santa Clara on Thursday and San Francisco was tagged with a 3-9 West Coast Conference mark) does not seem to faze the second-best team in the nation.
"It showed that we are able to execute down the stretch and get stops when they really matter," Wiltjer said. "We don't like close games obviously. But I think it really is helping us find an identity and what we can do and where we can go in late-game situations."
Pangos agrees that the close-game situations will pay dividends as the Zags head to March.
"We made winning plays," Pangos said. "We executed at the end and got some stops. It was good. We'll need to do that in games. It's not always going to be comfortable leads."
Gonzaga hosts Loyola Marymount and Pepperdine before a February 21st trip to St. Mary's for a test against its toughest WCC competition.