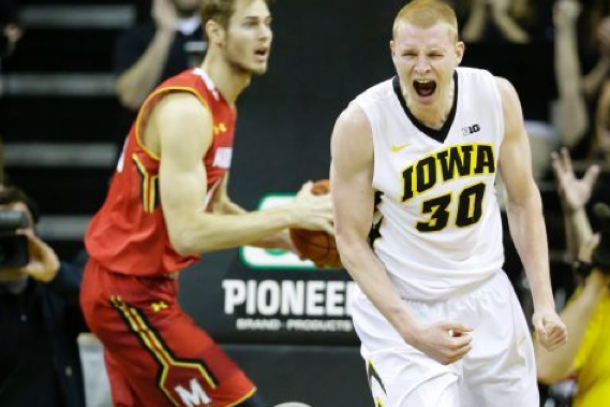 Maryland traveled to Iowa City on Sunday to face the Iowa Hawkeyes in desperate need of a road win in the Big Ten to gain confidence for the home stretch. When they left, the Terrapins had neither a win or any added hope for the immediate future as the Hawkeyes trounced them 71-55.
Iowa came out flaming hot on both ends of the floor and raced out to a 22-3 lead over the first 14 minutes of the game and carried that momentum to halftime when they held a 40-17 advantage over the reeling Terps.
"We got going offensively and it snowballed on them a little bit," Iowa coach Fran McCaffery said of his team's dominant performance.
The second half was no better for the Terps. Despite outscoring the Hawkeyes by seven points across the last 20 minutes, Maryland could never get the lead under ten points and suffered their third straight road loss by double figures.
While the Terrapins do have a pair of wins during their five game mini-meltdown, each of them came against conference cellar-dwellers Northwestern and Penn State, hardly a recipe for success in the Big Ten.
Aaron White and Adam Woodbury led the charge for Iowa with 17 and 16 points respectively. Peter Jok added 15 on an afternoon that saw the Hawkeyes shoot 64% from the field, including nearly 50% from behind the arc.
Maryland was paced by a game high 20 points from Melo Trimble, but the Terps placed just one other player in double figures and shot just 37% from the field.
Despite the recent struggles in his team's first Big Ten campaign, Terps coach Mark Turgeon is optimistic that things will improve.
"Kids are resilient. We're going to wake up tomorrow and ... look at our record and say `Oh, we're 19-5 and 7-4," Turgeon said afterwards. "You move on. It's a grind."
Maryland will indeed move on this week to host Indiana before traveling to College Station for a matchup against Penn State.
Iowa, meanwhile, is making a charge in the Big Ten, and with Sunday's victory the Hawkeyes move to 6-4 and only a half game out of a second place logjam with 4 other teams. They have a schedule this week that has them facing two winnable games, home versus Minnesota and a visit to Northwestern, that could put them right into the mix.