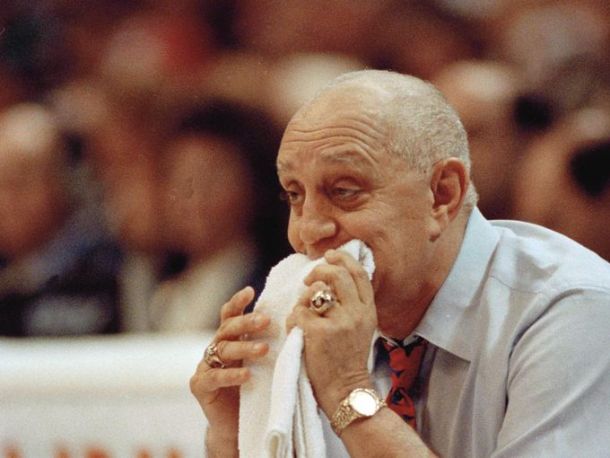 In a span of just a few days the college basketball world has lost two of its stalwart coaching members. First former North Carolina head man Dean Smith died on February 7. And now word from Las Vegas is that Jerry Tarkanian has also passed away, according to his son, Danny.
Tarkanian was hospitalized on Monday with a respiratory illness and Danny posted on social media that his father's condition was touch and go with little hope for recovery. He had been in and out of the hospital several times over the past few months for a variety of ailments.
An oftentimes polarizing figure in college basketball, "Tark the Shark" left a lasting impression on the sport with tenures at Long Beach State, UNLV and later at Fresno State University.
With the Runnin' Rebels, Tarkanian won a national title in 1990 with a roster filled with future NBA stars Stacey Augmon, Greg Anthony, and Larry Johnson. Tark's resume also includes four trips to the Final Four, all with UNLV.
He began his career in 1968 with Long Beach State and took over the Rebels program in 1973. After leaving Las Vegas in 1992, Tarkanian had a brief stint in the NBA as head coach of the San Antonio Spurs. He was fired only 20 games into the 1992 season, partly because of his 9-11 record but mostly due to disagreements with Spurs ownership.
In 1995, Tarkanian took over at Fresno State and led the Bulldogs to 7 straight postseason appearances including a pair of trips to the NCAA Tournament. In all, Tark led his teams to postseason play 24 times over his 31-year career.
Despite his on-court success, his relationship with the NCAA was rocky at best. After he left LBSU, the 49ers were hit with NCAA probation for recruiting violations. Further, his UNLV teams were the constant focus of scrutiny by the NCAA which led to Tarkanian suing the entity after his short stay in San Antonio. Tarkanian settled out of court and was awarded over $2 million.
NCAA and legal issues notwithstanding, Tarkanian excelled on the floor. Overall he amassed 729 wins to only 201 losses over 31 years on the bench, good enough for 12th on the all-time wins list. (Note: NCAA sanctions resulted in 55 of his career wins being vacated.) He entered the Basketball Hall of Fame in 2013.
Tarkanian singlehandedly put the UNLV Runnin' Rebels on the map, and his towel-chomping antics on the bench made him both an endearing and polarizing figure in the American Sports landscape.
His influence lives on in college basketball in many ways from nicknames to style of play. The University of Utah, for example, has taken on the nickname of the "Runnin' Utes," and several coaches across the country still embody his pressure defense and uptempo offense philosophies. He revolutionized the game with his Amoeba zone defense that is still used across the country today at all levels.
Further, Tarkanian was a mainstay in the community of Las Vegas, and his reach will still be felt. There is a middle school in the community named after Jerry and his wife, Lois, aptly nicknamed the Sharks - and their colors are red and silver, just like his beloved Runnin' Rebels. He also founded the Tarkanian Basketball Academy in Las Vegas, a program designed to teach children of all ages the fundamentals of basketball.
His family will continue its activity and service to the Las Vegas area. Lois currently serves as a city councilwoman and Danny, who ran an unsuccessful attempt as senator of Nevada back in 2010, remains active in real estate and small businesses in Clark County.