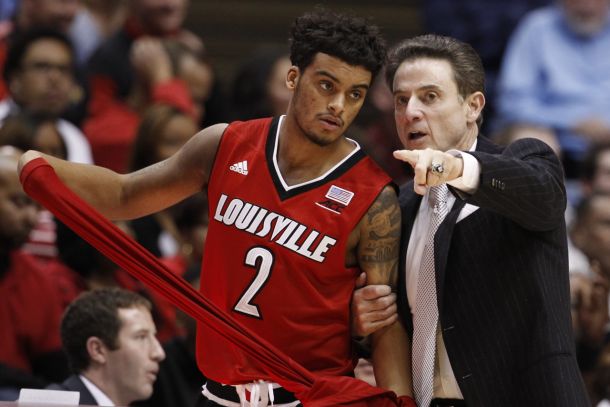 The Louisville Cardinals seemed to be in a rocky shape heading into the 2-15-2016 season. They suffered the losses of Terry Rozier, Montrezl Harrell, Will Blackshear, Chris Jones, Shaqquan Aaron, and Anton Gill. However, the Cardinals picked up excellent talent and seem to be looking better. Here is an early look at the 2015-2016 Louisville Men's Basketball team's depth chart.
Projected Starters:
Point Guard - Quentin Snider- There are many different guard combinations Pitino could go with. After a breakout NCAA Tournament, sophomore Snider could get the full time gig. He is a very unselfish player that can shoot the ball. Quentin really proved his worth, scoring the game winning free throws against UC Irvine. Snider is the future of Louisville basketball, and he will shine this coming season.
Shooting Guard - Trey Lewis- This position will be held by Lewis or Mitchell. Pitino could even start Mitchell over Snider and put Lewis at point guard. Either way, Lewis is going to be starting. He is a 5th year senior who played for Cleveland State last season. When Cleveland State traveled to Louisville, Lewis scored 24 points on the Cardinals. If you can't beat them, might as well join them.
Small Forward - Damion Lee- Another 5th year transfer for the Cardinals. He was the 5th leading scorer in the country last season and filled a huge need. Lee will be the go-to guy on offense and will be the leader on the team. After a huge season at Drexel, Lee is prepared to show up and show off for Louisville. Lee will likely lead the team in scoring most nights.
Power Forward - Jaylen Johnson- Cardinal fans should already know this guy despite a small amount of playing time. No one would get much time with a guy like Montrezl Harrell starting. He is a tremendous rebounder that can put the ball on the floor. Johnson now has his chance to be the best big man on the roster. Once he finds his footing, expect big things from this sophomore forward.
Center -  Mangok Mathiang- Last season was a crazy ride for Mathiang. He wasn't an offensive force despite starting most games but had a signature play. Mathiang made the game winning basket against Virginia in the last seconds. Other than that, it's been a bit of a disappointment on the offensive end. He is a great rebounder and defender, but will need to step up as captain this season.
Projected Bench Rotation:
Guard - Donovan Mitchell – A 4-star guard that could very well start, Mitchell will be the best athlete on the team, and can provide thunderous dunks. Expect an immediate impact off the bench for the freshman.
Center - Chinanu Onuaku- This sophomore center started a few games as a freshman last season. He was used as a shot blocker and rebounder. Onuaku's offensive game needs a lot of work, but there is potential. Chinanu needs to be more aggressive if he wants more playing time.
Forward - Deng Adel- He was the highest regarded player coming into this season. Adel is a fantastic defender that can handle the ball. His offensive game needs a bit of work, but he can provide a spark off the bench for the Cardinals. He will be a solid backup to Lee for short spurts.
Forward - Anas Mahmoud- This skinny big man provided some good basketball last season. He is a better offensive player than many consider. Mahmoud will backup Johnson at power forward and could play center. He has to build strength before he gets heavy minutes.
Guard - David Levitch- He was a bench player heading into last season but saw playing time. With Gill and Aaron not providing much, Levitch got an opportunity to play. David is a solid shooter that could get a few minutes to give other guys a break.
Forward - Raymond Spalding- Another freshman coming in, Spalding has tons of potential. He is lengthy and can rebound the ball. His offensive game needs work, but he can be a solid rotation guy. Don't expect a ton of minutes from Spalding.
The Louisville Cardinals will be very different next season. There are only a handful of proven scorers on the team and some guys will have to step up. They will be in the second tier of the ACC but can pull some surprises.
Louisville will still be a safe bet as an NCAA Tournament pick in 2015-2016. No way of telling which squad will show up.