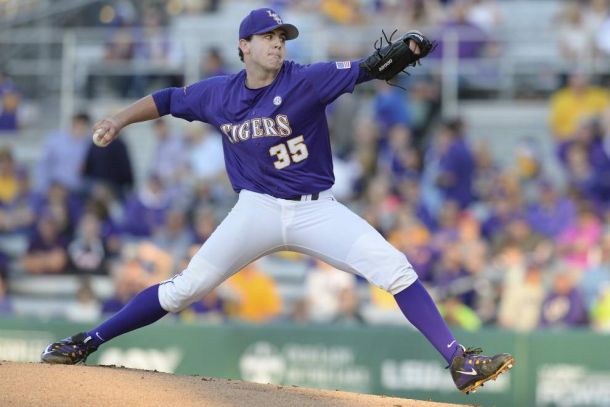 Last season, the LSU Tigers were knocked out of the College World Series by TCU in the second round. LSU will look to come back strong again this season despite losing a big chunk of their lineup. Jake Fraley is the only returning everyday player from last year. Fraley ended the season batting .307 with 35 RBIs. The good news is the Tigers have a huge batch of pitchers coming back including Alex Lange who went 12-0 with a 1.97 ERA during his first season as a Tiger. Another big pitcher returning for the 2016 season is Jared Poche. Poche had a 3.05 ERA and a 9-2 record last season. The Tigers still have to fill eight position spots though.
"It has been a lot of fun so far," LSU head coach Paul Mainieri said. "It's exciting to watch the development of guys and I always get excited about new players especially when they show us that they have something where they can make a difference. We want to be able to decide who the 9 best players are and figure out where they fit best defensively."
The Tigers start the season off with a three-game series at home against the Cincinnati Bearcats. The Bearcats had a 15-41 record last season and their pitching was not great at all. This should be an easy season opener for LSU.
On March 18, LSU will open up conference play at home against the Alabama Crimson Tide. The Tide ended last season 32-28, 12-18 in SEC play. The Tigers won all three appearances against the Tide last season, but with most of the offense gone for 2016 it could be a tougher series since Bama has a lot of pitchers returning.
On April 7-9, the Tigers will host the Vanderbilt Commodores. Vanderbilt made it to the College World Series Championship round before getting beat by Virginia. This could potentially be a pretty big series between the two teams.
LSU will also be facing another College World Series team. Arkansas will be traveling to Baton Rouge May 6-8. The Razorbacks were knocked out of the CWS in the first round and had a 40-25 record for the 2015 season.
LSU will end the 2016 regular season with a three-game home series against the Florida Gators. These two teams only played once last season and Florida got the win. Florida also had an appearance in the College World Series but was eliminated by Virginia.
Full Schedule:
February 19-21: Cincinnati @ LSU February 24: LSU @ Lamar February 26-28: Sacramento State @ LSU March 2: LSU @ Nicholls March 4-5: Fordham @ LSU March 8: Louisiana Tech @ LSU March 9: McNeese State @ LSU March 11-13: Ball State @ LSU March 15: New Orleans @ LSU March 18-20: Alabama* @ LSU March 22: UL-Lafayette - LSU (Willy Pontiff Jr. Classic) March 24-26: LSU @ Texas A&M* March 29: Tulane @ LSU April 1-3: LSU @ Auburn* April 5: Southern @ LSU April 7-9: Vanderbilt* @ LSU April 13: Grambling @ LSU April 15-17: LSU @ Missouri* April 20: Southeastern Louisiana @ LSU April 22-24: Mississippi State* @ LSU April 26: LSU @ Tulane April 28-30: LSU @ Ole Miss* May 6-8: Arkansas* @ LSU May 10-11: LSU @ Notre Dame May 13-15: LSU @ Tennessee* May 17: Northwestern State @ LSU May 19-21: Florida* @ LSU
* indicates Conference Play