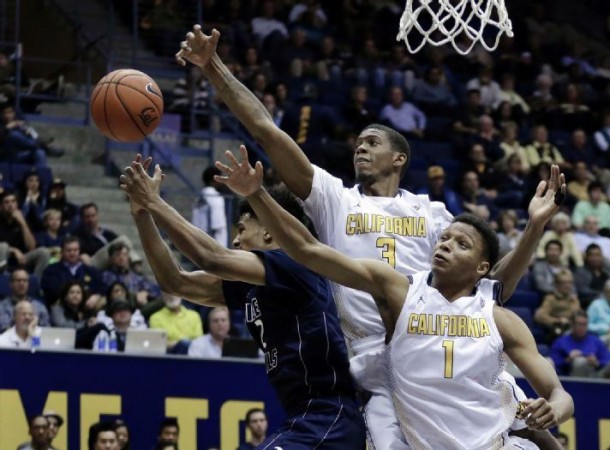 Berkeley, CA -- The California Golden Bears kick-started their what seems to be special season with a win over Rice 97-65 Friday night.
Tyrone Wallace totaled 20 points, 8 assists, and 6 rebounds in the Bears win. Jaylen Brown and Ivan Rabb both scored 14 points in their debuts.
The Bears, although they have two All-Americans, a veteran point guard, and two quality scorers, play a team basketball led by head coach Cuonzo Martin. "Pass the ball, get your teammates involved. They know what it means," said Martin, the Golden Bears' second-year coach. "When you have good players you don't need a lot of plays when you share the basketball."
Martin is right. Cal features arguably the best starting 5 in the country, and although Tyrone and Jaylen Brown may be able to score whenever they want, it's not always about that. When you share the ball it tires out defenses, and it creates a team chemsistry. All of them want to score, but their chemistry, if built early, will help them succeed.
"That's what we do, share the rock," guard Jordan Mathews said.
Cal shot 50% from the field, 43% from behind the arc, and 83% from the free throw line, 15-18.
"We have no excuses," Rice coach Mike Rhoades said. "I thought we got very selfish with the ball and put ourselves in a tough position to win."
Ivan Rabb showed that he sure can rebound the ball. He totaled 13 rebounds, 7 of which were on the offensive end.
"He's one of those guys you'd describe as a natural rebounder -- 13 rebounds in 16 minutes, he goes and he rebounds," Martin said. "I can only imagine when he continues to get strength on his body the rebounder he'll become."
Rabb and Brown are both impact players that will only improve over the season. A few of the plays these two made show greatness in the making. It will be interesting to see Cal once Pac-12 play starts, and when they play in a few of the major tournaments in preseason. "I felt like we were overprepared for this game," Rabb said. "We came out and we executed."
Ben Braun, who previously worked as Cal's and Rice's head coach got a chance to broadcast the game for the Pac-12 network. his first season with Cal, back in 1997, was when Cal made the Sweet 16. A couple of years later, the Bears won the NIT Tournament.
"It's not often you get a chance to come back and commentate on two teams you spent 18 years with. It's a special feeling," Braun said. "I had a good feeling I might be on this game seeing as I coached both schools and know the programs well."