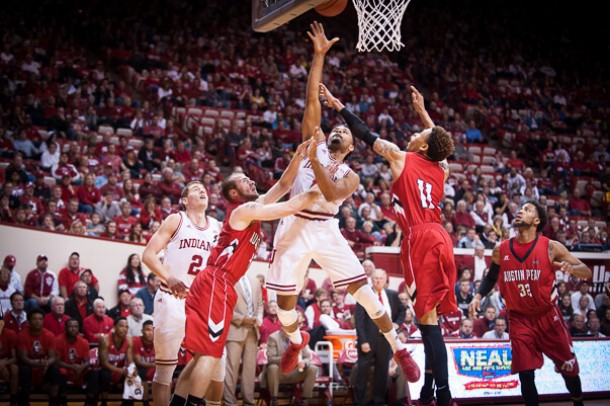 The Indiana Hoosiers collected another big win on Monday night at Assembly Hall against the Austin Peay Governors as the Hoosiers now turn their attention to Creighton on Thursday and the Maui Invitational on Monday.
Check out what head coach Tom Crean along with players Yogi Ferrell and Nick Zeisloft had to say about the Hoosiers big win as provided by the above author and VAVEL USA.
____________________________________________________________
Tom Crean, Indiana Head Coach:
Opening statement: Hard to find a lot of criticisms when you make 15 straight shots. I don't think I've ever been a part of 15 straight made shots... We had 14 steals, which is big for us. We had 57 deflections, which is big for us. But at the same time, we gave up too many points in the paint, and that combined with us giving them the ball back, and then we didn't capitalize on the turnovers we took from them as much as we needed to. So, to answer my own questions, we're finding the criticisms right now.
On Thomas Bryant: I thought he made good progress... Thomas did a nice job, and he came back in after fouls and did a nice job. He played with really good energy and made a lot of strides from game one to game two. I thought he was capable of so much more on Friday night and certainly his energy is noticeable and people get excited about that. But I know about the energy. I want to see the efficiency, and I thought he played much more efficiently tonight.
On improving rim protection: I just think we've got to continue to understand what it is. We've got three new guys inside plus Max who is new to us, and Max is in a different role than what he's accustomed to. So that will take some time. And Collin's getting back to speed... We've got to continue to build on what we're doing and just get better at it. We want to put pressure on the rim too, and there were a couple times where we weren't and the guys were noticing that. Yogi did some tremendous things in the post tonight when we caught him off the block. That's the kind of action we've got to have. So it's just a matter of making it harder to get it in there, and then trying to do your best to understand how to help and how to cover with verticality without fouling.
Nick Zeisloft, Indiana Senior guard:
How do you grade a night like this?: Well, the emphasis in this game was our spacing. Our spacing wasn't very consistent in the last game, and our break wasn't very consistent either. So those two things definitely helped us tonight.
On rule changes: I mean, that's happening every day in practice and in the games. We're working on it. It's being called pretty tight. I'm a little more tight on Friday night than it was tonight. But we're working on our stick hand, like he mentioned beforehand, and just keeping our hands free from cutters and drivers and in the post as well.
On the turnovers: Yeah, a little carelessness, and not making the right reads sometimes taking one too many dribbles instead of making the simple play and pass. But we'll work on that in the next few days definitely. That's way too high of a number.
Yogi Ferrell, Indiana Senior guard:
On points coming from assists and rebounding: Yeah, I'm trying to definitely get in the mix with the rebounds now this year. Last three years did a lot of standing around. I used to go to the defense, but now I'm definitely going into the offense trying to get those rebounds too, because that's just extra that points on the board for us, for myself and for our team.
On physicality: We're not going to accept them getting into the post so easily like that. We definitely don't want to have the same amount of points matched up with them. But if that happens, then we've just got to find a way for them not to score. It was always just finding a way for them not to score, and that's all there is to it.
On assists this season: Well, first thing I'm going to do is try ask create for my team, because I feel like the defense has to give something up, and they're always going to give something up. It's going to be different each game.