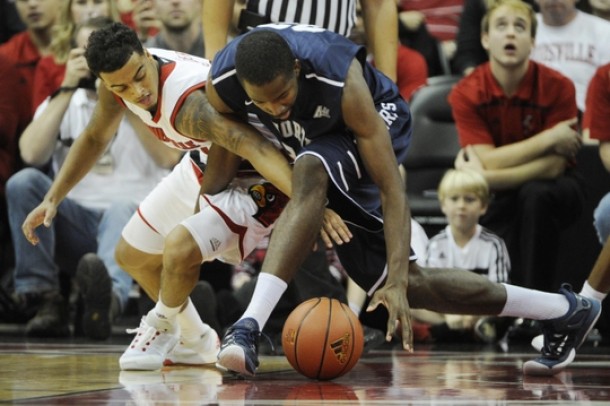 It was raining three-pointers this afternoon between the Louisville Cardinals and the North Florida Ospreys. The Cardinals had a hard team containing the Ospreys from behind the arc - North Florida leads the country with 16 three-pointers made per game.
All five starters for North Florida could shoot the basketball and it took a freshman on Louisville, without Deng Adel, stepping up to contain the college version of the Golden State Warriors.
If it wasn't for Raymond Spalding and Damion Lee, Louisville would now have a glaring loss on their schedule. The Cards headed into the game 2-0 and North Florida was 3-0 as they averaged 99 points per game, which is sixth best in the country.
Louisville was only favored by 12 points and many people were picking the Cardinals to be on upset alert after many top teams went down this season early.
In the first half, it was neck and neck. North Florida was hitting everything possible while Dallas Moore (averaged 24 PPG) scored 14 points and Beau Beech scored 13 points. Beech ended the half with a buzzer-beater three that was a punch in the face to Louisville.
Lee kept the Cards in it with 10 first half points and Chinanu Onuaku forced three steals. Jaylen Johnson played only six minutes as a starter in favor of Ray Spalding, who lit up the scoreboard.
The second half was all Cardinals which included Spalding and Lee having a two man show. Spalding was getting hit for easy dunks and grabbing every rebound imaginable. The Cards dominated the board out rebounding North Florida 53-22 and swiping the ball 12 times. Louisville had as many offensive rebounds as North Florida had total rebounds.
In the end, it was a cold streak from North Florida that won the game for Louisville and a freshman coming into his own.
"The second-half was an awesome, awesome display, as good a half of basketball as I've seen since I've been here at both ends of the floor," Rick Pitino said postgame.
Louisville (3-0) 89, North Florida (3-1) 61
Player of the Game- Raymond Spalding had 18 points, 12 rebounds, four steals, and two blocks to lead the Cards off the bench.
Louisville Scoring Leaders: Jaylen Johnson five points and four rebounds, Chinanu Onuaku six points and nine rebounds, Damion Lee 24 points and seven rebounds, Quentin Snider nine points and six assists, Trey Lewis 15 points and four rebounds and Raymond Spalding 18 points and 12 rebounds.
North Florida Scoring Leaders: Beau Beech 18 points and four rebounds, Chris Davenport four points and five rebounds, Trent Mackey nine points and three rebounds, Dallas Moore 21 points and two assists and Demarcus Daniels seven points and two blocks.
Next Opponents:
Louisville - St.Francis Brooklyn 7 P.M 11/24
North Florida - Saint Louis 8 P.M 11/24