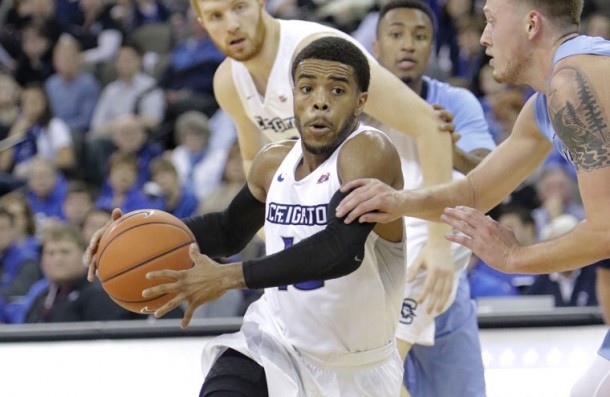 It's that time of year again ladies and gentlemen! What? You don't know? It's time for family get-togethers and early season college basketball tournaments.
So with these very exciting events about tip-off, VAVEL US' own Tyler Bennett and Peyton Wesner have decided to do a special "Sizzling in the Spotlight" for all twenty November tourneys, including the Men Who Speak Up Main Event.
Middleweight Bracket
3:00 PM EST
1-3 UTSA - 0-3 Central Arkansas
Coming In:
UTSA: 82-79 Win - Southern Utah
Central Arkansas: 87-84 Loss @ Rutgers
Players to Watch:
UTSA:
Ryan Bowie (SR)
---19.5 PPG & 7.0 RPG.
Central Arkansas:
Derreck Brooks (SR)
---18.0 PPG, 6.0 RPG, 3.0 APG, 2.3 SPG, & 1.0 BPG.
6:00 PM EST
0-3 Texas Southern @ 1-2 Howard
Coming In:
Texas Southern: 76-56 Loss - Clemson
Howard: 106-64 Win - Medgar Evers
Players to Watch:
Texas Southern:
Malcolm Riley (SR)
---20.3 PPG, 5.3 RPG, & 2.0 SPG.
Howard:
James Daniel III (JR)
---28.7 PPG, 2.0 RPG, 4.3 APG, & 4.3 SPG.
Bennett's Bracket
Semi-Finals:
Central Arkansas enters the event looking for their first win of the season, and have struggled so far in 2015-16. With that said, Jordan Howard is a star for the Bears, and the team is capable of surprising anyone on any given night. The Roadrunners have a star of their own, in Ryan Bowie, and he will lead the team to victory.
---UTSA 70, Central Arkansas 60
Texas Southern taking on Howard is easily a championship-calibre showing in the Middleweight Bracket in the Men Who Speak Up Event, but nevertheless it's a nice prelude to the finals. James Daniel and the Bison will give the Tigers a run for their money, but the duo of Malcolm Riley and Chris Thomas will do enough to lead Texas Southern to victory.
---Texas Southern 81, Howard 73
Championship:
The Texas Southern Tigers took the college basketball world by storm a season ago when they knocked off the Michigan State Spartans inside the Breslin Center in East Lansing. The Tigers entered the Men Who Speak Up Event without a win in 2015-16, but could very well come away with two victories and a tournament title to boot. Chris Thomas puts up a big performance to lead the Tigers over the Roadrunners.
---Texas Southern 76, UTSA 74
Wesner's Bracket
Semi-Finals:
---Central Arkansas 83, UTSA 79
---Howard 85, Texas Southern 82
Championship:
---Howard 82, Central Arkansas 81
Heavyweight Bracket
9:30 PM EST
3-0 Massachusetts - 3-0 Clemson
Coming In:
Massachusetts: 89-62 Win - Central Arkansas
Clemson: 76-56 Win - Texas Southern
Players to Watch:
Massachusetts:
Jabarie Hinds (SR)
---22.3 PPG, 2.7 RPG, 6.0 APG, 2.7 SPG, & 1.0 BPG.
Clemson:
Jaron Blossomgame (JR)
---17.0 PPG, 7.0 RPG, & 2.0 BPG.
11:59 PM EST
2-1 Creighton - 2-1 Rutgers
Coming In:
Creighton: 86-65 Loss @ Indiana
Rutgers: 87-84 Win - Central Arkansas
Players to Watch:
Creighton:
Isaiah Zierden (JR)
---14.3 PPG, 4.0 RPG, 4.0 APG, & 1.3 SPG.
Rutgers:
Mike Williams (SO)
---16.0 PPG, 5.0 RPG, & 2.0 SPG.
Bennett's Bracket
Semi-Finals:
The battle between Clemson and Massachusetts will pit two teams with 3-0 records against one another in what should be an excellent match-up. Jabarie Hinds is having himself a breakout season for the Minutemen, and the same can be said for Jaron Blossomgame with the Tigers. The Minutemen will rely on Hines to lead the team, and their depth will carry the team to a tight victory over the Tigers.
---Massachusetts 76, Clemson 72
The Creighton Bluejays have a star on their roster this season in Boston University transfer Maurice Watson Jr., as his presence has been a big boost for the team. A healthy Isaiah Zierden has been another plus, and the emergence of freshman Khyri Thomas as a go-to offensive threat adds another dimension to the team. Rutgers will hang around early, but Creighton will pull away in the second half.
---Creighton 85, Rutgers 71
Championship:
The Creighton Bluejays look like a different team in comparison to last year's squad, or at least for the time being. The addition of Cole Huff and Watson have been big boosts for the team, as they continue to adjust to life without Doug McDermott. Their strong play will continue in the championship, as they clip the Minutemen to claim victory in the Men Who Speak Up Heavyweight bracket.
---Creighton 80, Massachusetts 77
Wesner's Bracket
Semi-Finals:
---Clemson 74, Massachusetts 69
---Creighton 76, Rutgers 68
Championship:
---Clemson 73, Creighton 67
Point System for Men Who Speak Up Main Event
1 pts for each semi-final win
3 pts for correctly choosing the champion
Standings:
1. Bennett 85 pts (70-30)
2. Wesner 83 pts (70-30)