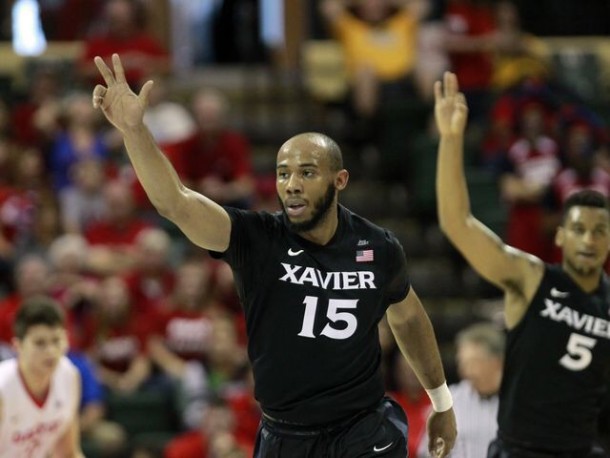 LAKE BUENA VISTA, FLORIDA---For the first time since 2013 when both inhabited the Atlantic 10, the Xavier Musketeers and Dayton Flyers renewed their rivalry with an unscheduled meeting. However, tonight there was more than bragging rights on the line.
In a tournament that seems to have featured everything (upsets, close contests, new tournament records, etc.), Xavier and Dayton fans packed the HP Field House navy blue and red for the 2015 Advocare Invitational Championship.
To kick-off the battle of undefeated teams, the Musketeers immediately seized momentum with a layup from big man Jalen Reynolds. Even though Dayton head coach Archie Miller didn't know it at the time, the Flyers would never have a better chance to take the lead than at that moment (2-0 XU).
Following a fairly even first ten minutes, a pair of youngsters, sophomore J.P. Macura and freshman Edmond Sumner, produced in a monumental way, for they supplied all 13 points, in a 13-3 run to increase a measly 20-18 lead to a 33-21 advantage! Though the Flyers were able to go on a 5-0 mini-spurt, Kyle Davis, Kendall Pollard, and, Schoochie Smith missed chances to dwindle the deficit more by making only one of two free throws on three total instances. Ultimately, tonight's game came down to Dayton not being able to build onto the aforementioned run as they and the Musketeers traded baskets until triple zeros hit the clock for the first time with the score of 43-35 Xavier.
When the crowd made their way back to their seats after the conclusion of halftime, the whole arena was getting amped for an entertaining second half. Unfortunately for those wearing red, it was everything but as Xavier posted 47 while Dayton had the inferior amount of 26 in the second twenty minutes.
Starting similar to the beginning of the game, the second twenty minutes saw Jalen Reynolds dunk the basketball with authority. From there, the Musketeers went on a 25-4 run, which expanded their lead to a game-high 29. The Flyers were physically drained and Xavier ended the night throwing up the X for their first Advocare Invitational championship.
The End Of A Flight
In their first two contests, the Dayton Flyers were able to jump ahead of the opposition before allowing them to get back into the game. Tonight against a great defensive squad, they were unable to consistently shoot the ball at a good percentage (33.3% in the second half compared to 50.0% in first) while being out-rebounded 40-26. The Flyers will have a week of practice before hosting North Florida of the Atlantic Sun next Saturday at 2:00 PM EST.
Met You In The Sumner
Okay, it's official! Edmond Sumner is a "fab freshman!" Despite having the worst scoring game of his collegiate career on Thanksgiving against Alabama (1 point), the Detroit, Michigan, native was the difference this evening by netting a game-high fourteen points. In all honesty though, not just Sumner but all Musketeers' starters (Remy Abell, Trevon Bluiett, Myles Davis, Reynolds, and Sumner) were fantastic tonight in double-figure points' performances. Xavier will be back in action Saturday when they play host to Western Kentucky.
Sunday's Advocare Invitational Remaining Action
7:00 PM EST
3-2 Alabama - 4-1 17. Notre Dame (ESPNU)
***2015 Advocare Invitational Consolation Championship
How They Have Faired In Orlando:
Alabama:
64-45 Loss - 23. Xavier
64-60 Win - 20. Wichita State
Notre Dame:
70-68 Loss - Monmouth
68-62 Win - Iowa
Coverage of Sunday's finale from the HP Field House in Lake Buena Vista, Florida, can and will be found on VAVEL US.