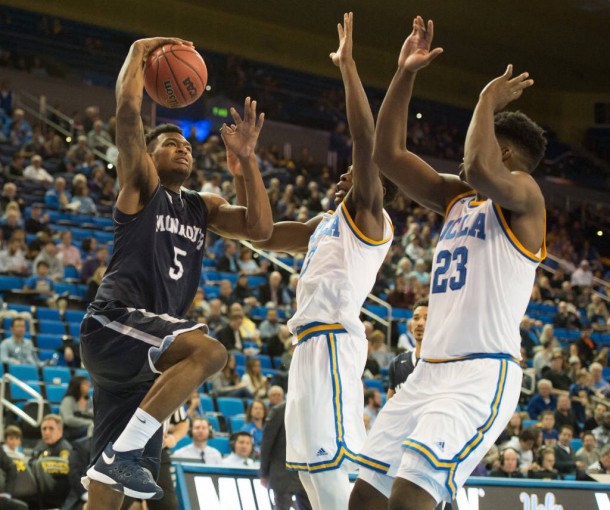 NIAGARA FALLS, NEW YORK---Since the Metro Atlantic Athletic Conference (MAAC) expanded to 11 teams in 2013, no school has ever received a first round bye into the quarterfinals of the conference tournament after beginning 0-2 in conference play. In fact, only one team (Siena in 2002) has ever won the MAAC Tournament without a first round bye! Therefore, with history in consideration, the cinderella mid-major of the 2015-2016 college basketball season, the Monmouth Hawks, desperately needed a victory on Sunday after losing to Canisius in their conference opener.
They had no trouble returning to their winning ways against the Niagara Purple Eagles.
Starting the afternoon with a made layup from superstar Justin Robinson, Monmouth quickly flew away from their opponent with an 8-0 run that helped them to a 27-15 halftime advantage.
No different from the first half, a Hawks layup', this time by "fab freshman" Micah Seaborn, re-started the party in an attempt to pull away for good coming out of the halftime locker room. Thankfully for the home faithful, Niagara's Emile Blackmon had something to say about it.
Blackmon, who entered this afternoon's contest posting the second highest scoring average on the team, finally broke out of his first half shooting slump (0 for 3, 1 point) with seven points in less than four minutes to keep his team in the game. However, he only delayed the inevitable, for Deon Jones answered Blackmon's points with seven of his own (in basically the same period of time) to kill any momentum the Purple Eagles had. Niagara was truly demoralized and never inched closer than 10 points in the final 9:31, resulting in a 56-42 defeat. Monmouth was back on track!
Not Just(in) Robinson
Surprisingly, but a good sign for King Rice's team, Justin Robinson did not have to carry Monmouth to the win column by himself this afternoon. Actually, the case can made that teammates Micah Seaborn (13 points and 4 rebounds) and Deon Jones (11 points and 6 rebounds) did more of the heavy lifting than the 2015 Advocare Invitational Most Valuable Player considering Robinson had just eight points on four of eight shooting. Wow, are you sure it wasn't his brother playing? Yes, it was definitely Justin on the court. His eight-point performance was the lowest total the nation's 4th leading scorer had since January 21 of last season against Penn, when he also netted eight. Expect the "jazzy junior" to re-discover his shooting stroke on December 13 in the Hawks' home opener versus Wagner.
Great Scott?
Entering today's matchup as Niagara's leading scorer (17.4 PPG), Matt Scott needed a big game for his team to have any chance of upsetting Monmouth. Would you call 8 points on 4 of 13 shooting a big game? No sir! Despite stuffing the stat sheet with 7 boards and 3 steals, Scott never did find his shooting stroke this afternoon. Though, he wasn't the only Purple Eagle to struggle as big man Justin Satchell (11.3 PPG) left the Gallagher Center with a measly 2 points. Much more productive outings will be required from the two, and Emile Blackmon for that matter (14 points on 6 for 14 shooting from the field today), if they want to put themselves on the college basketball map with a huge win over St. John's on Wednesday night.